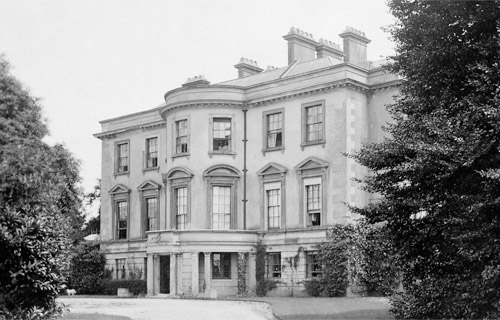 KEMPSHOTT PARK
A PRINCE'S RETREAT
Researched and Written
by
______________________________
SYNOPSIS
The
kempshottmanor.net
website is the product of research extending from England (including Windsor Castle) to the United States, and is concerned with the occupation of the Kempshott Estate in north Hampshire by King George IV as Prince of Wales (later, Prince Regent), between 1788 and 1795. The purpose is to put on the public record this little known part of Hampshire's history.
Part One considers the acquisition of the estate, his leasing of realty in the adjoining Manor of Dummer and likely reasons for the Prince's choice of Kempshott. The exterior of Kempshott House at the time, evidenced by Henry Holland's 1795 architectural designs, is described.
Part Two examines the Prince's 'sporting' interests, his early hunt activities with the Hampshire Hunt and the formation of the Kempshott Hunt in 1790-91, of which he was Master. His 'sporting' companions and, perhaps more interestingly, hunt servants are well represented. The Hunt's demise is discussed.
Part Three looks at princely lifestyle, visualising the interior of the mansion house, its functioning as well as social life there. The Prince's somewhat questionable impact on his Hampshire neighbours is given. The effects upon Kempshott of the Prince's debt crisis and the designation of Kempshott as a haven for French emigres, post Revolution of 1789, are detailed. Following his marriage to Princess Caroline of Brunswick in 1795, the Princess's lasting impressions of the house and of her husband's companions are given.
Part Four considers the Prince's likely reasons for leaving Kempshott. Consideration is given, also, to the alleged condition of the estate and adjoining realty, after seven years of royal occupation.
__________________________
Presentation of Notes:
Home Page lists sources of research in foot note form.
1 - 4 Notes, by definition, lists sources of research for Parts 1 to 4 in page note form.
Presentation of Quotes, etc:
All transcribed extracts from letters, diaries and similar documents are italicized, as are quotes from contemporary newspapers, books etc. Extracts from contemporary inventories etc. remain in plain text, as do any extracts from modern printed sources. References to Kempshott during the eighteenth and nineteenth centuries often omit the last 't'. All quotes retain their original spellings.
The term 'lord of the manor', used in this study, is a legal title, its origins deriving from the period of English territorial ownership, held of the Crown, with its system of manorial laws and administration. The word 'manor', however, when used, is synonymous with the modern understanding of the word 'estate', unless expressed otherwise.
ACKNOWLEDGEMENTS
I wish to acknowledge the gracious permission of Her Majesty the Queen for allowing me access to, and to quote from, papers held at the Royal Archives and Royal Library, Windsor Castle.
Additionally, my thanks to Lady de Bellaigue, former Royal Archives Registrar; Miss Pamela Clark, Senior Archivist; Mr Oliver Everett, former Royal Librarian; Miss Allison Derrett, Assistant Archivist; Mr Martin Clayton and Miss Bridget Wright.
My thanks, also, to Dr Sarah Lewin, Principal Archivist, Hampshire Record Office (England), for allowing me to quote from documents researched at H.R.O., and for the kind co-operation of her staff.
Similarly, my thanks to Ms Jennifer Crets of the St. Louis Art Museum, Missouri, USA.
Special thanks to Dr James Thomas, F.R.Hist.S., Reader in Local and Maritime History, University of Portsmouth (England), for his comments on my original dissertation on the subject.
INTRODUCTION
The original Kempshott Estate, situated within the Hundred of Basingstoke, in the north of the County of Hampshire - also known historically as the County of Southampton - was some four miles south-west of the town of Basingstoke. It incorporated the north-westerly adjoining Southwood Estate, thereby covering the parishes of Dean and Wootton St Lawrence in the north and Winslade in the south.1 The historic Manor of Kempshott, the legal administrative unit, is listed in the Domesday survey of 1086 as Ca[m]pessete. The Old English name was Cempan sceate meaning "warriors' corner". The changing vernacular included Kempeschete and Kempeschotte in the thirteenth century; Kembeshute and Kembeshete in the fourteenth century. The present name dates from the fifteenth century: Kempshote.2 Kempshott formed part of the possessions of the Norman baron, Hugh de Port in 1086, and was valued at thirty shillings. From Port-en Bessin, de Port had been a principal ally of William, Duke of Normandy, who, as King William I, had granted him Kempshott manor and 54 other manors in Hampshire - his chief manor being nearby Old Basing - together with the Sheriffdom of Hampshire. Hugh de Port is an ancestor of the Marquises of Winchester.
Hugh himself holds CA[M]PESSETE, Walter [holds] of him. Aldret held it T.R.E., and could go where he would. TRE, as now, it was assessed at 2 hides. There is land for 3 ploughs. In demesne there are 2 ploughs; 3 villeins, 3 bordars with 1 plough. Value always 30s.
Translation of the Domesday Survey, 1086
(T.R.E. = During the Reign of Edward the Confessor)
Over the centuries Kempshott passed into the hands of related families such as the (de) St Johns, the Tichbornes, and then between 1578 and 1770, Kempshott was alienated to Henry Pincke.3 Pincke's son, Robert Pincke, D.D., became warden of New College, Oxford, in 1617, and was much esteemed by King James I for his debating skills. He received the gratitude of King Charles I for his loyal conduct during the English Civil War in raising the Oxford University Militia and exhorting the citizens of Oxford to take up arms for their sovereign. Eventually falling into the hands of Roundheads he was imprisoned for a short time, but released on bail on 5 January 1643. He died on 2 November 1647, and was interred in New College Chapel, between the pulpit and the screen.4
With its tranquil rural setting near Dummer, the village with which it has always been associated, Kempshott had never assumed special attention. Then, between 1788 and 1789, there was a distinct change of fortune: the manor was discovered by a royal heir-apparent.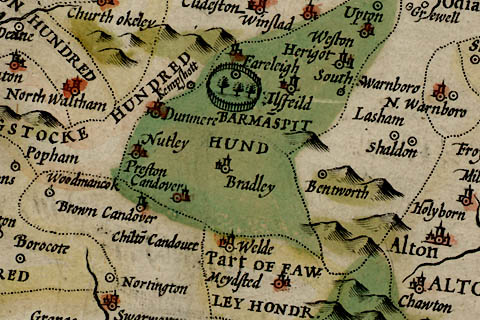 John Speed's Map of Hampshire, 1611 (Detail)
Showing Kempshott and Dummer
CONTEMPORANEOUS OCCURRENCES
Before beginning this study of the Prince of Wales at Kempshott, however, it may be beneficial to recall some contemporaneous events during 1788-9, big and small, national and international, of which some had world changing significance. These historic landmarks included:
The first, short-lived, Regency crisis of 1788-9, the cause of which was King George III's tragic illness (contemporary attitudes of Hampshire people are considered in Part I).
The death of Prince Charles Edward Stuart in 1788, grandson of King James II, his aspiration to become King Charles III having been bloodily thwarted at the Battle of Culloden on 16 April 1746 (also known as the Battle of Drummossie). His nemesis was William Augustus, Duke of Cumberland (1721-1765) - 'Butcher Cumberland' - King George II's second son and great-uncle to the Prince of Wales. The 'Young Pretender' and 'Bonnie Prince Charlie' died in France with no legitimate heir.
On 26 January 1788, the First Fleet from Portsmouth, England, sailed into [what became known as] Sydney Cove, Australia, with Arthur Phillip establishing the first settlement and eventually becoming the first governor of New South Wales.
William Caslon (b.1692) died in 1788, having been the designer of the type face bearing his name and having modernized the concept of the book, transmuting it into something more than just a printed imitation of a hand-produced book.
Mary Wollstonecraft (1759-1797) had published by James Johnson of London, for whom she worked, several of her works, for example, 'Mary: A Fiction', in 1788. She was a pioneer of educational equality between men and women, publishing in 1792, 'A Vindication of the Rights of Women'.
Humphrey Repton (1752-1818) established himself as a landscape designer in 1788, becoming the undisputed successor to Lancelot 'Capability' Brown.
The surgeon, Sir Percival Pott (b.1714) died in 1788, having been the first person to associate cancer with occupational exposure.
An Act for the Better Regulation of Chimney Sweepers and their Apprentices was introduced in 1788, setting the minimum age for apprenticeship at just eight.
Charlotte Smith (1749-1806), the English novelist and poet, had published in 1788 'Emmeline; or, The Orphan of the Castle', and in 1789 'Ethelinde; or, The Recluse of the Lake'.
On 28 April 1789, Lieutenant William Bligh, captain of HMS Bounty, together with eighteen of his crew were cast adrift by mutineers, led by Fletcher Christian, in a twenty-three foot longboat, about thirty nautical miles from Tofua. They survived on minimal rations and equipment, eventually landing at West Timor on 14 June, after a journey of 3,618 miles. Only one crew member died, John Norton, at Tofua.
On 30 April 1789, General George Washington (1732-1799), became the first President of the United States of America, remaining in office until March 4 1797.
On 14 July 1789, the Bastille, seen as the supreme symbol of royal oppression, was stormed, laying the foundations for the French Revolution. By 21 January 1793, King Louis XVI had been executed, with Queen Marie Antoinette suffering a similar fate on 16 October. England's war with revolutionary France occurred in the same year. The French ambassador to the English Court just prior to the Revolution was Count d'Adhemar.5
Jack Broughton (b.1704), the third heavyweight boxing champion of England, died in 1789. He devised the first set of boxing rules, and invented 'mufflers', the forerunner of the first boxing gloves.
Daniel Mendoza (1764-1836), became the sixteenth English heavyweight boxing champion in 1791 (having defeated Richard Humphries). In 1789 his book 'The Art of Boxing' was published. He earned the admiration of the Prince of Wales. One of Mendoza's descendants was the actor and heavyweight of comedy, Peter Sellers, OBE. Born Richard Henry Sellers, at Castle Road, Southsea, Portsmouth, England, in 1925, Sellers was a great admirer of his ancestor.
Edward 'Lumpy' Stevens (1735-1819), was an English professional cricketer who played from c.1756 to 1789. He was regarded as the best slow bowler of his day and universally known by his nickname.
Gilbert White (1720-1793), the Hampshire clergyman and naturalist, had published in 1789 'The Natural History and Antiquities of Selborne', the first work on natural history to attain the status of an English classic.
Samuel Arnold (1740-1802), the composer, became conductor to the Academy of Ancient Music in 1789.
Ann Radcliffe (1764-1823), the English Gothic novelist, had her first novel 'The Castles of Athlin and Dunbayne' published in 1789, with her second 'A Sicilian Romance' published the following year. While accreditation for both remained anonymous, Radcliffe achieved fame with her third and fourth novels, 'The Romance of the Forest' and 'The Mysteries of Udolpho', appearing in 1791 and 1794, respectively, the latter having made her the most popular novelist in England.
JANE AUSTEN AND KEMPSHOTT PARK
During the Prince of Wales tenure of Kempshott Park, another lady novelist, Jane Austen (1775-1817), had yet to achieve her literary status. As the eighteenth century approached its fin de siecle, however, Miss Austen had composed three novels. The first to be published was 'Sense and Sensibility' (and, like its two successors, anonymously) in 1811, having been drafted in letter form in c.1795. She wrote 'Pride and Prejuduce' between 1796 and 1797, followed by 'Northanger Abbey' between 1798 and 1799, although they were not published until February 1813 and late December 1817, respectively. Wth Miss Austen's newly-acquired Kempshott connections - via invitations from Lord and Lady Dorchester, who resided there from 1796 to 1803 - it is no surprise that Kempshott Park became one of the major influences on her writing. In two of the letters she wrote from her home at nearby Steventon, Hampshire, to her sister Cassandra Austen at Godmersham Park, Kent, there are references to a ball at Kempshott on 8 January 1799. The first, written on Friday 28 December 1798 (letter 16), reads:
'Mrs Lefroy has just sent me word that Lady Dorchester means to invite me to her Ball on the 8th of January, which tho' an humble Blessing compared with what the last page records, I do not consider as any Calamity'.
The second, written on Tuesday 8 January 1799 (letter 17), reads:
'Charles [her brother] is not come yet, but he must come this morning, or he shall never know what I will do to him. The ball at Kempshott is this evening, and I have got him an invitation, though I have not been so considerate as to get him a partner... I am not to wear my white satin cap to-night, after all; I am to wear a mamalone [should read 'mamalouc'] cap instead, which Charles Fowle sent to Mary, and which she lends me. It is all the fashion now; worn at the opera, and by Lady Mildmays at Hackwood balls. I hate describing such things, and I dare say you will be able to guess what it is like ... My gown is made very much like my blue one, which you always told me sat very well, with only these variations: the sleeves are short, the wrap fuller, the apron comes over it, and a band of the same completes the whole'.
(Footnote 8 quotes from an unconnected letter commenting on fashions of the period).
Continued the next day:
'I wore my green shoes last night, and took my white fan with me... I spent a very pleasant evening, chiefly among the Manydown party. There was the same kind of supper as last year, and the same want of chairs. There were more dancers than the room could conveniently hold, which is enough to constitute a good ball at any time. I do not think I was very much in request. People were rather apt not to ask me till they could not help it; one's consequence, you know, varies so much at times without any particular reason. There was one gentleman, an officer of the Cheshire, a very good-looking young man, who, I was told, wanted very much to be introduced to me, but as he did not want it quite enough to take much trouble in effecting it, we never could bring it about.
I danced with Mr. John Wood again, twice with a Mr. South, a lad from Winchester, who, I suppose, is as far from being related to the bishop of that diocese as it is possible to be, with G. Lefroy, and J. Harwood, who, I think, takes to me rather more than he used to do. One of my gayest actions was sitting down two dances in preference to having Lord Bolton's eldest son for my partner, who danced too ill to be endured. The Miss Charterises were there, and played the parts of the Miss Edens with great spirit. Charles never came. Naughty Charles! I suppose he could not get superseded in time'.6
(Part 3 includes a reference to the Prince of Wales' ball at Kempshott, on 21 January 1791).
LORD DORCHESTER AND KEMPSHOTT PARK
Also acquainted with Lord Dorchester, inter alios, was the Terry family of nearby Dummer House, as was a 'tall young man named Golding', so wrote Stephen Terry, son of Thomas Terry of Dummer, with connections to The Goldings, a private residence near Basingstoke, a possibility. Alternatively, this may have referred to a member of the Golding family from Maiden Earley, near Reading, and in particular Edward Golding, later of Quidhampton, near Basingstoke.7
Lord Dorchester, a distinguished military commander and British North America statesman, became Lieutenant-General, 1777; General, 1793; Lieutenant-Governor of Quebec, 1766-8, and Governor, 1768-78; Commander-in-Chief in North America, 1782-96; Governor-General of Canada, 1786-96 (K.B., 1776; peerage, 1786). In 1772 he married Lady Maria Howard (1753-1836), third daughter of Thomas, 2nd Earl of Effingham.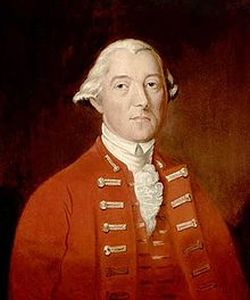 General Sir Guy Carleton, K.B. (artist unknown)
A Founding Father of Modern Canada
Reproduction: Courtesy of the National Archives of Canada (C-002833)
Guy Carleton was born at Strabane, County Tyrone, Ireland, on 3 September 1724. He was a colonel at the capture of Quebec, the Battle of Quebec on 13 September 1759, having marked the end of French rule in Canada. He was appointed lieutenant-governor there in 1766, eventually succeeding James Murray as governor in 1768, before the outbreak of the American Revolutionary War. He was a major influence on the passing of the Quebec Act 1774, guaranteeing Quebec's freedom of religion and retention of French civil law. This greatly assisted in ensuring the loyalty of the Quebecois to the British, while contemporaneously angering many in the southern colonies. He repelled the American invasion of 1775-6, but, as governor, was criticized for his slow pursuit of the retreating forces. After bitter disagreements with his councillors, especially Chief Justice Peter Livius, whom he dismissed, Carleton resigned, leaving in July 1778. In 1782-3 he was commander-in-chief of the British forces in New York, replacing Sir Henry Clinton. He refused an evacuation until loyalist refugees had been guaranteed safety - in Quebec and Nova Scotia. He became Governor-General of Canada in 1786 (until 1796), the same year he was ennobled. In 1791, an Act of Parliament, prepared by William Grenville, and revised by Lord Dorchester, provided for Canada to be divided into two provinces: Upper Canada (later, Ontario) and Lower Canada (later, Quebec). A similar constitution was given to each. In 1794, Jay's Treaty, the peace agreement between Great Britain and the United States was signed. This made provision for the withdrawal of the British from the United States, but leaving behind all British acquisitions of war. This was deemed to include black loyalists who had already been granted their freedom by the British government. Carleton, along with other British military leaders, was outraged at this renegation. Consequently, he negotiated a mutually acceptable substitute in the form of compensation - although not before receiving an angry letter on the matter from George Washington. After further major disagreements with the local establishment in 1794, Governor-General of Canada, Guy, Baron Dorchester, offered his resignation on 4 September. This was granted by July 1795. He left the province for the last time on 9 July 1796, aged 72, retiring to Kempshott Park the same year.8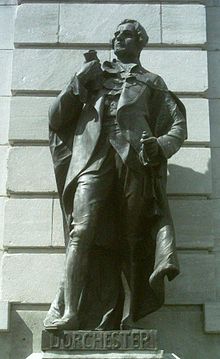 Sir Guy Carleton, First Baron Dorchester, by Alfred Laliberte
Parliament Building, Quebec
Photograph: Courtesy of Jean Gagnon
Did the Kempshott neighbourhood welcome the arrival of the Dorchesters? An answer need not remain speculative. The surviving first part of a letter sent to a Mrs Beach, most likely the wife of an adjoining Kempshott landowner, by an unknown correspondent, the contents suggesting it was from Elizabeth Terry (nee Harding of Upcott, Devon), wife of Thomas Terry of Dummer, provides a fascinating insight into the characters of Baron and Baroness Dorchester. The letter was written at some point in 1797, most likely during the spring or summer months, the day being Friday. A slightly modified presentation of the letter reads:
'... we had to dinner the other day our new neighbours from Kempshott, Lord and Lady Dorchester. They seem the most rational beings I have met with [in] a great while, no airs, pride or affectation. He is a General like looking man and she a genteel looking woman. But you may perceive her countenance an impression that conveys to your mind an idea that she had had many misfortunes and I believe that is the case. She has made eight voyages almost all with a young family and in them experienced every danger incident to the sea. At one time their ship was many days stuck between ice - a most hazardous situation, shipwrecked on a desert island where they stayed a fortnight, and one day and night on a rock. In one voyage they changed their ship four times from accidents, and I believe in their family they have experienced some misfortunes. Their eldest son [Christopher] is just married I believe not quite to their liking. Having a large family it is not in their power to do much for him and in these days living on love only will not do, though it might in Arcadia. And so having nothing himself but his commission I believe, he has married a young lady who has not a penny, and their eldest daughter a fine young woman about twenty I suppose. They [Lord and Lady Dorchester] rise at five in the morning, walk four or five miles, and drink no wine, so much for our new neighbours ...' 9
The Dorchesters impress as being very agreeable, although somewhat austere, occupants of the Kempshott Estate and highly respected neighbours. References to misfortunes, especially within their family, were not overstated. The Dorchesters had eleven children, nine sons and two daughters. Two sons died in infancy: William, 1778-1780, and Lancelot, 1779-1780. Six died on active service: Guy, 1773-1793, Lieutenant, Third Guards; Thomas, 1774-94, First Royal Dragoons (d. Cateau); Christopher, 1775-1806, Lieutenant-Colonel, Twenty-Fifth Dragoons (d. Madras); George, 1781-1814, rank unknown (d. Bergen-op Zoom); Charles, 1786-99, Royal Navy, midshipman ? (d. HMS Phoebe, very possibly during the French Revolutionary Wars, aged 13); Dudley, 1790-1820, Captain, Fourth Dragoons. Their two daughters, Maria and Frances, married William, the second Lord Bolton, and the Rev. John Orde, respectively. Their youngest son, Richard (1792-1869), entered the Church, becoming Rector of Nately Scures in Hampshire, St Swithun's Church being the burial place of Lord Dorchester.10
The Dorchesters of Kempshott Park undoubtedly would make excellent subjects for future research. The destruction of Lord Dorchester's personal papers in 1808 upon his instructions, sadly, remain a tragic loss and a serious hindrance.
The following study, however, is concerned with a young man to whom the word 'austerity' was not a principal consideration in his life - Lord Dorchester's Kempshott predecessor: The Prince of Wales.
Notes:
1 H.R.O. 55 M67 T145-6, Mortgage and Bond, 13 Nov. 1760, makes reference to the Manor of
Kempshott in the parish of Winslade, and lands in Lawrence Wootton called Southwood and
Southwood Closes, and lands in Dean called Ramsholt and Gander Down.
2 Victoria County History of Hampshire, pp.179-80; R. Coates, The Place Names of Hampshire, (1989),
p.103.
3 Ibid., V.C.H.
4 S. Lee and L.Stephen (ed.), Dictionary of National Biography (63v. 1885-1900), v.45.
5 The Duchess of Cleveland, The Life and Letters of Lady Hester Stanhope, (1914), p.6. The Count
was personally known to Lady Hester, the niece of William Pitt, having visited her father at
Chevening when she was seven or eight years old.
6 R.W. Chapman, Jane Austen's Letters to Her Sister Cassandra and Others, (1932).
7 James Edward Austen-Leigh, Recollections of the Early Days of the Vine Hunt, (1865), p.62.
8 Dictionary of National Biography, op.cit., v.9; many modern printed sources also have been
consulted for this resume of Dorchester's military and political career. Dates, however, can be at
variance, although dates in this Introduction are believed to be accurate. Modern printed sources
are often incorrect regarding Dorchester's tenure and period of occupation of Kempshott. He was a
tenant of John Crosse Crooke, having resided there from 1796 to 1803 - see also G.F. Prosser,
Select Views of Hampshire, (1833).
9 Hampshire Record Office, 20 M64/17, letter, writer unknown, 1797. The letter also comments on the
fashions of the period '... there is another book published by a young man [most likely a Methodist]
advising the ladies to dress a little more decently, the naked elbows disturb him as much as it does Mr
Beach, the present race of women are too much talked of as pretty girls, not admired and respected as
fine women as in the days of our Grand mothers, it is not for want of good advice that this present age is
not the most virtuous & best that ever was so we have no excuse for our failings ...'.
10 Memorial plaques, St. Swithun's Church, Nately Scures, Hampshire. Dorchester's birth date is given
as 1722. His younger brother, General Thomas Carleton, became Governor of New Brunswick, from
its foundation in 1784, until his death in 1817.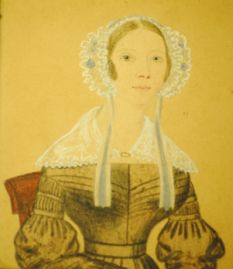 A Near-Contemporary of Jane Austen
Miniature of the author's Great-Great-Great-Great Aunt, Florence Bryant, as a young woman, c.1840.
Her sartorial restraint doubtless would have received the approval of

? Mrs Elizabeth Terry and Mr Beach (see note 9).



Pen and ink with oils and water colours on vellum, and painted possibly by a family member.
Preserved in original (unopened) frame. Visible picture size 85mm x 105mm.
(Copyright (c) 2013 Christopher Golding)
_______________________
Copyright (c) 2013 Christopher Golding