II
THE KEMPSHOTT HUNT
Playground, Exposition, Disposition
The intelligent, independently minded, eldest son of an eighteenth century monarch needed powerful alternative outlets. One choice made by the young George Augustus Frederick was Whig Politics. Another was hunting, a social occupation in which he was engaged enthusiastically during his tenure of Kempshott.
The Prince of Wales had been introduced to stag-hunting by his parents, either in 1782 or 1783, when he was 20 or 21. The Royal Family, at Windsor Lodge, was devoted to this field sport one day in each week, either Tuesday or Saturday, at which the Prince was expected to attend. The purpose was to provide him with a pastime considered appropriate for a member of royalty, although being at an age when self-assertion is important, the compulsive element meant only grudging compliance. Prince George, nevertheless, quickly developed a great enthusiasm for hunting and would attend hunts at Windsor Lodge, even when settled in London for the winter.1
The earliest account of the Prince of Wales hunting near Kempshott was in 1790, on 26 January. The inaccuracies of some place names in the Hampshire Chronicle report are indicative of a correspondent unfamiliar with the area. This suggests that a heavy reliance may have been placed on an interviewee(s) with a strong local dialect(s), and, if so, gives a fascinating, albeit limited, grasp of the sound of Hampshire voices in the eighteenth century. The hunt was described thus:
'A stag was turned out on Tuesday, before the Prince of Wales's hounds at Hackwood. The deer ran directly to the river Loddon, which he crossed between Basingstoke and Basing; he then traversed Sherborn Fields to Shothanger, thence to Working [Worting], over the late race course to Shemshot [Kempshott] to Farleigh, Highwood, Preston Oakcutts [Preston Oakley], Herriard Common, Laffain [Lasham], and Shaldon, where he ran into a cottage, and was secured in the kitchen. The Prince hired all his relay horses, and was left behind in Preston Oakcutts [Preston Oakley]; but we are happy to say, that his R.H. arrived safe at Shemshot [Kempshott], about seven in the evening: only four persons remained with the hounds when the deer was taken. The Huntsman tired both his horses: The Hon. Mr Bligh and many others had severe falls, but we do not hear that any bad consequences have ensued. The Prince returned to town on Wednesday, and before he got into his chaise, expressed the highest satisfaction at the sport and the fineness of the country. He wore the uniform of the H.H. and with his usual affability, conversed with every gentleman present'.2
From the quaintly deferential tone, the Prince either released his Kempshott hounds at nearby Hackwood Park, the seat of the Duke of Bolton, or, more likely, hounds he was still keeping there. Why he was left behind in Preston Oakley is conjectural, but the Prince often became angered if he failed to keep pace with his hounds.3 The last paragraph of the report implies that the Prince had an immediate influence on the neighbourhood, with the Hampshire Hunt (the H.H.), of which he was now a member, having honoured a princely desire for stag-hunting - notwithstanding being a foxhunting fraternity.4 Contemporary accounts of other hunts in which the Prince participated at or near Kempshott during 1790, should they exist, remain elusive.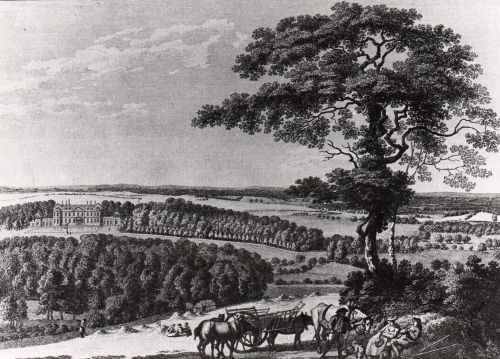 Hackwood Park in the Eighteenth Century
Originally published by G[eorge] Kearlsy, 46 Fleet Street, London,
on 1 October 1775, in 'The Copper plate magazine'
The Prince's passion for hunting was equalled in his love for racing, frequenting the annual Winchester Races, held in 1790 on 21 July. That year the event was 'a celebrated one', with 'a greater number of the nobility than ever before remembered' in attendance, and which 'formed a scene so highly descriptive of the richness of this island that it struck several Foreigners of distinction who were present with silent astonishment', doubtless many being French exiles. Prince George's horse, Pegasus, was the winner for the King's Plate, with [most likely] John Crooke's horse, Prize Fighter, being runner-up - a superlative result for Kempshott! Horses for the King's Plate carried twelve stone, the winner being the best of three four-mile heats. The Winchester Races also provided profitable business for visiting London hairdressers, who resided for race week at the Black Swan Hotel in Winchester.5
The Prince's other passion was shooting,6 often commanding that he be driven to Kempshott at night to secure an early morning start. Upon arrival, he was known to commence immediately, having tried to get as much sleep as possible during the journey from Carlton House, his palatial London residence, and 'seldom taking any other rest than what the carriage affords'. He was usually wrapped in a large pelisse,7 doubtless supplied by his London furrier, Mr Dyde, of 89 Pall Mall,8 with his gun by his side.9 With such evident enthusiasm, it is quite possible that his gun was the most advanced of its time. Gunsmiths had made changes to their sporting weapons by this time by improving the boring. Consequently, a gun of shorter length could now perform just as well as the longer type against common grouse or partridge. They were considered to be easier to prepare and load - although subject to a more rapid directional loss than was the case with longer guns after the first shot had been fired. For retrieving game, the Prince may have engaged a new species of Pointer dogs with double noses, recently introduced into the country. They had a very acute sense of smell and carried their heads well to find game. This was considered to be a great asset over the conventional Pointer that often had its head down, or 'head foremost' and was slower.10
On many of these occasions the Prince was accompanied by one of his closest sporting companions, Sir John Lade, a Whig Party whip, also deeply involved with all aspects of racing and hunting. With his jockey-like build, Lade was ideally suited to life in the saddle.11 Within forty-eight hours of a shoot ending at Kempshott, the Prince was back in London, writing to the baronet, on the 8 December, the letter being hand-delivered to Lade's residence, possibly in Piccadilly:12
Dear Sir John...
...I shall dine at Bagshot at five oClock Tomorrow, then proceed on to Kempshot, & hunt on Friday & Saturday mornings with my own Hounds, then return to London early on Sunday, ... how glad I shall be to see You at dinner Tomorrow, to carry You on to Kempshot afterwards & to bring You back on Sunday...13
The Prince kept to his schedule, the Hampshire Chronicle reporting his return to London from Kempshott on Sunday night.14 The Prince completed 1790 by travelling to Kempshott on Christmas Eve, spending the holiday stag-hunting.15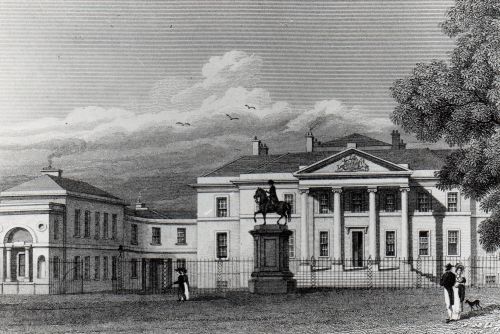 Hackwood House, Principal Front, Eighteenth Century,
showing one of the quadrant wings
By the beginning of 1791, at the latest, the Hampshire equestrian world had a surprise addition to its ranks. The Prince had formed his own sporting fraternity: The Kempshott Hunt. With the Prince as master of staghounds, the appointment of Hunt manager went to William Poyntz of Midgham in Berkshire, aged 57, brother of the Countess Spencer. Poyntz was deemed 'a gentleman of large property, and of a very old family. He was a very odd and whimsical character; but his eccentricities seem to have been of a kind and easy nature ... . Mr Poyntz was much with the Prince at Kempshot, a society for which he was quite qualified by his birth and connections'. His eccentricities seemed to have included '... a decided mania for dancing. When at Overton, he used frequently to give dancing parties, and invite all the farmers and their daughters, and, when staying with his friends, would say to the lady of the house, "Can we not have a little dance to-night?" and request that the maid-servants should be sent for. After hunting in his own neighbourhood, he used to dress in his carriage and go off to a ball at Windsor. Another peculiarity was, that he always had a bowl of punch placed by his bedside as a nightcap'. Poyntz also became the Kempshott Hunt's archivist from January 1791. His unpublished manuscript, on foolscap paper, bound in vellum and encased in green Morocco, is held (since 2004) at the Royal Archives, Windsor Castle, previously having resided at the Royal Library, Windsor.16 Poyntz, hitherto, had 'kept a strong pack of hounds at the Red Lion Inn, Overton, giving up his Hampshire country to the Prince upon appointment'. Until his appointment he had '... lived, during his visits there, at the large inn, but always slept at the Red Lion [later re-named The Poyntz Arms], his bedroom looking into the kennel ...' .17 Other hunt appointments were John Gascoygne as head groom, George Sharp as huntsman, George Dean and John Farrell as whippers-in.18 Gascoygne's two sisters, it was said, were also employed at Kempshott, with rumours that they were part of a 'seraglio'. Possibly countering this is the Royal Household index, now housed at the Royal Archives, which suggests that his daughters were employed, although the evidence is not conclusive. Eventually elevated to head of the Royal stud stables, Gascoygne finally was accorded the privilege of being buried with the honours of the Royal liveries. His sisters (possibly daughters) then were taken into the household of the Queen Consort, Queen Charlotte, as assistant dressers.19 Sharp (1755-1830), initially was Lord Stawell's whipper-in, but the Prince was keen to have him as his huntsman and so approached Stawell - of nearby Marelands, near Farnham, and Hinton House - possibly at Hackwood Park where Stawell had kennelling.20 Sharp, however, wanted to decline the offer, arguing that he was already well employed and had an expertise and a preference for foxhunting rather than stag-hunting, of which he knew nothing. Lord Stawell, perhaps not entirely altruistically, persuaded him otherwise by saying:
...You do not want to go, and I do not want to lose you; but neither you nor I must say no to a Prince; you must take the offer and if you continue steady and respectable, it may be the making of your fortune.21
Sharp accepted with reluctance, therefore, the appointment most likely having occurred in 1790. From Weymouth, Dorset, on 8 August that year, the Prince's uncle, Henry, Duke of Cumberland, had corresponded with the heir-apparent ending the letter with some advice concerning the hounds' welfare, recommending:
...to direct Sharpe... to swim them a[t] Lymington it make their Coats so fine & [is] equal if not better than any Physicking'.22
Seemingly in the Prince's employ, Sharp had travelled [possibly] to Rookley House, the Prince's seat near the New Forest, Hampshire, the former seat of the Duke of Cumberland. The southern extremity of the New Forest incorporates the coastal town of Lymington.23 This suggests that if Sharp was huntsman by this time, then the Kempshott Hunt also existed in 1790 - some time before Poyntz' first account of the Hunt in January 1791. Allied to this is the Prince's letter to Lade of 8 December 1790, cited earlier, in which the Prince's casual reference to hunting with his 'own Hounds' at Kempshott on 10 and 11 December, implies that this was already routine. Regardless of timing, though, some members of the H.H. voiced misgivings about another hunt in their country. Doubtless contributing to this were rumours that Poyntz was '... by no means a scrupulous respecter of boundaries; but that as water will find its way into every vacant place, so his hounds were sure to appear wherever they were not carefully stopped out...', although this 'laxity of proceeding' may have been 'a characteristic of the times rather than of the man'. A majority decision in the Prince's favour, however, ensured that that concern was minimised.24 Besides, H.H. members rode with the Kempshott Hunt, including the master of foxhounds, Thomas Ridge, although as rank and file, the prestige of a close royal association, and with the Prince remaining a member of the H.H., surely easing any perceived difficulties. Ridge was of Manor House, Kilmeston, Hampshire. He sired twenty-one children, two having died in infancy. From 1749 he hunted all the country between Farnham, or Alton, and Romsey, giving it up to William Powlett-Powlett on 25 April 1795. He died at Kilmeston in 1798. The uniform of Ridge's hunt was blue. The hunt button in 1783 was made of silver, with a very large H.H. in blue on it; it was changed in 1785 to a very large brass one, with the same letters.
The Prince chose to pursue cultivated red deer as they could be 'brought at all times to wait for any delay on his part', with many being supplied by his Hampshire neighbours.25 The objective was to enjoy the chase without seeing the deer's demise, a good deer being highly valued for its cross-country stamina and bravery. Stags, though hinds more often, tragically and not surprisingly, could be seriously mauled or even killed by the hounds if no one was up with them.26
In January 1791, the established Kempshott Hunt had a full complement of horses and hounds. Eighty hounds were in kennel, most likely quartered at the home farm (named Kennel or Kennel Gate Farm), being on secondment from nine royal, aristocratic and landed owners - the Dukes of York and Bedford, Lords Egremont, Craven, Fitzwilliam, Stawell, Donegall, Mr Panton and the Quarley Pack. The year began with thirty-seven hunters in the stables. As the season progressed six were sold, three were exchanged and four were given as presents to the Duke of York, Lord Melbourne, Thomas Ridge and Ralph Dutton, a Jockey Club steward, although all four horses remained at Kempshott. The transaction prices ranged from 45 to 200 guineas. One horse, Lumpey - doubtless named after the professional cricketer, Edward 'Lump[e]y Stevens (1735-1819), 'the best slow bowler of that day', on whose account the third (middle) stump was introduced in 1776 - had been bought from Captain George 'Beau' Brummell, although later sold at Tattersalls for the higher sum.27 Notwithstanding the presence of highly priced horses, George Sharp privately complained of a lack of good stable management, with mounts never in optimum condition. He was also dissatisfied with having only one dependable black mare, Blaze, and riding her less often than he would have wished. He considered, too, that the turnover of horses at Kempshott's Kennel Gate Stables was excessive, leading to difficulties with equine familiarization. Sharp's covert complaints, however, contrast with those of the stable servants. They had given 'grand reports' of the horses and of their 'steadiness in jumping', although the circumstances surrounding their comments are unknown. Sharp's comments, of course, may have been [partly] influenced by his reluctance to accept the royal appointment, but are strongly supported in later recollections by others. Here, it was said that 'Poyntz always kept his [own] horses turned out, and never in condition; and they were only corned the night before and the morning of hunting, consequently they were never fit to go'. Additionally, 'Eight pounds was the maximum price for the hunters, and no corn allowed between Lady-day and Michaelmas. The hounds were never overridden'.28 Was Poyntz culpable, therefore, of treating the Prince's horses in the same way as his own?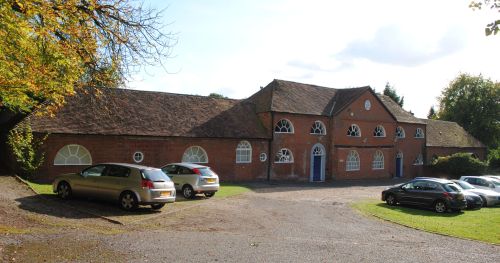 Kempshott House Stable Block (now offices of 'The Coach House')
Entrance to the walled mansion garden, nursery, stable yard etc., is far left of the picture
Photograph: Christopher Golding (October 2011)
The first official account of the Kempshott Hunt records George Sharp and his three colleagues, John Gascoygne, George Dean and John Farrell, as serving just four riders, probably also members of the H.H., for the New Year's Day hunt, 1791. With such a small field and with the notable absence of the Prince and his manager, again there is a strong suggestion that this was unlikely to have been the Kempshott Hunt's inaugural event. An 'old New Forest Stag was turned out by Kempshot Clump who ran down to the Firs & back again to the Clump crossed the Park into Lower Kempshot Wood, from thence up to Dummer, returned through the same wood & recrossed the Park again, from thence through the Kennel wood & was taken by the Hounds, close by the Kitchen Garden wall & the Paddocks'.29 The Prince spent the next two days at Kempshott, although the very frosty weather confined him to the mansion house. Disappointed by Sir John Lade's absence, the Prince took the opportunity of writing to the baronet, also requesting that he attend Bagshot for a day's shooting, later in the week.30
On 5 January 1791, with the Prince shooting at Bagshot Villa,31 William Poyntz was out with one other member of the Prince's Hunt, Mr Timberley. Sharp was on Little John - perhaps causing him some displeasure. They had 'A good chace, where the Hounds behaved remarkably well'. Much open country was covered through Farleigh Park, Axford, Preston Candover, over Chilton Down, across the valley to Weald, by Heath Green, through the Grove Wood to Meadstead, where the object of the chase, an unfortunate, old cervine aristocrat belonging to a Mr Ditmas, ran into an outhouse in 'Farmer Yard' and was taken. Running under Sharp's horse a female hound belonging to Lord Egremont, Jealousy, was killed, 'her thigh being quite broke'.32
The Prince's first ride with the Kempshott Hunt in 1791 was on 7 January, in a field of eleven, including Lord John Russell, Sir Henry St. John Mildmay, Mr Coulson Wallop of Hurstbourne, and the young Stephen Terry, son of Thomas Terry, lord of the manor of Dummer. Sharp, now on Blaze, Dean and Farrell were also present. Lade was absent. They ran from the turnpike gate at Kempshott, to Hatch Warren, Farleigh Paddocks, Inn Wood and Upper Kempshott Wood and then to Hackwood Park. A 'halloo' near the turnpike gate saw them running through St. John's Wood, crossing the Overton Road to Manydown, through Malshanger, and ending at Ashe Park an hour after dark.33 Dinner then followed at the Wheatsheaf Inn, Popham Lane, not far from Kempshott, and a regular rendezvous for the hunting fraternity. The following day the Prince foxhunted with the H.H., 'Mr Ridge's Pack'.34
Being graced with the royal presence on the 7 January, the proprietor of the Wheatsheaf Inn, Mr Vernon,35 doubtless opened the very fine cellar of port-wine which was kept for the Hampshire Hunt. The rector of Itchen Abbas, H.H. member and hunt Poet, the Reverend Charles Powlett (1728-1809), an illegitimate son of Charles, third Duke of Bolton,36 wrote six verses for the H.H. (known as 'The Kilmiston Hunt', to February 1784), to sing at monthly hunt dinners - which were served at 3.30 pm, being 'very sociable and convivial meetings' - evidently with this in mind. The first verse read:
Draw near, ye frail mortals of every degree,
Who heartily sigh and complain,
We'll find you a medicine, without any fee,
Shall quickly alleviate your pain.
Would you drive away care,
To the Wheatsheaf repair,
Where mirth and good humour embrace,
Our Hampshire Hunt join,
While young mirth and old wine,
Enliven the joys of the chase!37
The verse's last line must have seemed rather hollow to the Prince. His high regard for Lade as a hunting companion compelled him, upon his return from the inn, to write again complaining of Sir John's absence and requesting him to attend Kempshott on the following Sunday.38 The Prince's plea on this occasion did not go unheeded, for, on 10 January, Lade at last acceded to the royal command. Twenty-four riders, including William Poyntz and Thomas Ridge, accompanied the royal master of staghounds. Riding with the four hunt servants was Samuel Chiffney, the Prince's jockey, on Sophia. A stag named Unicorn was turned out on Weston Down, eight miles south-west of Kempshott, crossing the Micheldever enclosures and village, and then passing Thorney Down to Avington, near Winchester, having tried to throw off the hounds by crossing a river. The stag eventually was taken in a field 'near the road leading from Alresford to Winchester', having been coursed previously by a sheepdog and having 'fell upon his Head in leaping over an Hedge, which stunned him & had near killed him'.39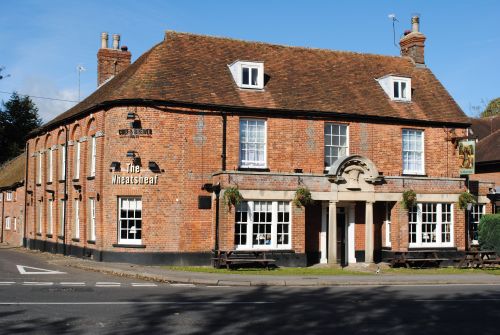 The Wheatsheaf Inn, Popham Lane (now adjoining the A30)
(18th Century, with renovations/alterations during the 19th & 20th Centuries)
The Wheatsheaf was also a major posting-house in the 18th & 19th centuries,
where, walking from Steventon, family mail was collected by Jane and Cassandra Austen
.
Photograph: Christopher Golding (October 2011)
The distinction between the Kempshott Hunt and the Hampshire Hunt was evident on 26 January, when both fraternities were out in separate parts of the county. The H.H.'s fox had broken cover near Tichborne, seven miles east of Winchester, and had remained well to the east of the city. The Prince's stag had started off in the neighbourhood of Kempshott, and ran almost to Winchester. He then headed back and ran over the racecourse towards Stockbridge, eight miles north-west of Winchester, and was eventually taken after a very long, hard chase. The two hunts had covered a cylindrically shaped area, some twenty-five miles in diameter. That evening, Katherine, Duchess of Bolton, gave a ball in honour of the Prince at Hackwood Park. The preceding evening, Mrs North, wife of the Bishop of Winchester, Dr Brownlow North, had given a similar ball in his honour at Farnham.40
The Prince's landlord, John Crosse Crooke, was an occasional Kempshott guest. Crooke rode with the Prince of Wales and the Kempshott Hunt on 24 January and 7 and 16 February 1791.41 Royal tenant and landlord would have had much to discuss, the construction of a new well-house needed by the Prince perhaps a major topic.42
The royal sportsman's gratitude for his neighbours' co-operation was expressed on 6 May, when he travelled to Kempshott and gave an elegant dinner at the Wheatsheaf Inn, in honour of all the Hampshire farmers over whose lands he had hunted during the 1790-1 season.43 As many as 150 guests may have attended, afterwards joining a grand ball. This was the first of a series of annual dinners given by the Prince, at Popham Lane, thanking them. The 1791 season ended on Saturday 2 April, recommencing on Tuesday 1 November.44
At the beginning of 1792, Kempshott's Kennel Gate Stables contained thirty hunters. Seventy-seven hounds enjoyed royal patronage at this time, of which seventy-five were on secondment from nine owners - the Dukes of York, Beaufort, and Bedford, Lords Stawell, Egremont, Craven and Fitzwilliam, Messrs. Fitzroy and Panton, besides the Prince's own breed.45 Concerned owners, though, may have insisted on additional security, a 'mad dog', presumably rabid, having entered the kennels during the previous summer, on 17 June, biting thirty-six of the hounds. The Prince's very tall keeper, Callington, had managed to despatch the offending intruder,46 doubtless receiving considerable praise from the Prince upon his return to Kempshott from Lewes in Sussex. He had been inspecting the Tenth Regiment of the [Hampshire] Light Dragoons of which he was to become Colonel-Commandant in 1792.47
The Prince's equine, canine and human entourage again hunted on 3 January. A foreign prince and a French aristocrat also joined the field, which included Lord John Russell, Sir John Lade and Colonel St. Leger. On this occasion they:
'Drew for the outlying Stag in the woods about Kempshot . Not finding him, turn'd out The French long legd Stag who run a ring roung [sic] Farley, and was taken at Farley House after a run of an hour and a Quarter'.
The Prince of Wales, confidently riding Saint Patrick, and Prince Tarente both remained in their saddles. Count Belzunce was less fortunate, having suffered 'a fall, - but not wounded'.48 Others, too, succumbed to various indignities at different times. Early in 1791, a Mr Kippington 'had a Damn'd Fall', so, too, did Farrell on Beddington - the hunt must have been particularly demanding. On the 9 February 1792, a Mr Howell 'Came in', while both an English aristocrat and Mr Winstanley of Brown Candover, an H.H. member, 'started' and Mr Edwards of Worting 'fell but not hurt'. Edwards was described as '... the great man with these hounds; his horses were first-rate, and always fit to go; he was a very popular man, but lived rather too fast for his means, and ended his days in great poverty'.49 Whether the Prince succumbed to catastrophes is not evident from Poyntz' record. In 1790, however, the Hampshire Chronicle's report of the Prince being left behind in Preston Oakley, seems indicative of William Poyntz treating royal upsets with discretion. In his recollections, Stephen Terry intimates that the Prince's horsemanship was no match for the professionalism of Lade and his associates - 'twas in vain every time he attempted to try'.50 Notwithstanding Terry's observations doubtless the Prince was somewhat more than just an average rider.
An upset of a different nature was experienced by Prince Tarente on 6 January, in a field which included three ladies - Marchioness and Mademoiselle de Coigny and Lady John Russell. Poyntz mused:
The hounds were kept waiting by the Ladies one hour & three quarters during an easterly wind.
Wonderful effect it had upon Prince Tarente.
Other participants included Lord John Russell, Master Russell and Count Belzunce once again, who was staying at Woburn with the Duke of Bedford, along with other 'foreigners of distinction'. The hunt went from Popham Beacon to Laverstoke and back to West Stratton, ending at Godings Down Farm. Lord John Russell later attended a meeting of the H.H. at the Wheatsheaf Inn, in his capacity as steward. Meetings of the H.H. were held on other occasions at the White Hart, Winchester, and the Swan Inn, Alresford.51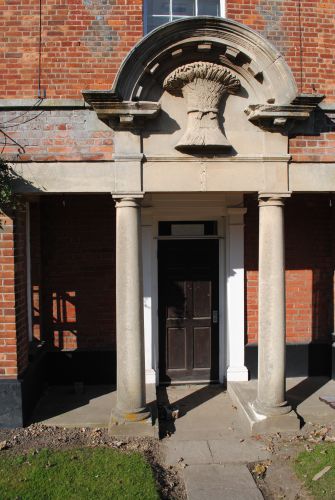 The Wheatsheaf Inn - Original Entrance
Photograph: Christopher Golding (October 2011)
Stag-hunting again gave way to foxhunting on 11 February, the Prince having invited Thomas Ridge and his foxhounds over from Kilmeston Manor to lead the H.H. Present at the hunt breakfast were Lade, St Leger, Lord John Russell and Charles James Fox, the Whig Party leader, who, although booted and spurred, could neither walk nor ride because of severe gout. The Prince's controversial female acquaintances - the Ladies Jersey and Cunynghame and Mesdames Sturt and Hodges, the latter possibly from Bramdean, Hampshire - also joined the field, all in hunting costume, causing copious local comment. The Prince, his arm still recovering from a horse bite the previous week, had the use of two horses - Saint Patrick and Stourton. Mrs Fitzherbert was also present at Kempshott, perhaps tendering ministrations to 'Prinny' before he set out. Being the only H.H. hunt recorded by Poyntz, in which Ridge's huntsman, Joe Hall, ably assisted by Ridge's first whip, Phil Gosling, suggests that this was a major event at Kempshott. George Sharp is not recorded as having ridden.52
The Prince may have borne physical discomfort well, but his mounting fiscal discomfort meant serious reappraisal of his position - profligacy rather than prudence, hitherto, a notoriously preferred option. The Prince was forced to take measures. In February 1792, having sought advice from the Duke of York,53 it was announced that the whole of his Newmarket Stud was to be auctioned in March.54 At the Tattersalls sale, sixty-five horses were offered. Lots 1-28 were sold, varying in price from 20 to 270 guineas. Lots 29-48 were yearling colts and fillies together with their engagements. Of these, only two were sold - lots 32 and 42 - at 125 guineas and 59 guineas respectively. Lots 48 [sic] to 65 were sold, varying in price from 24 to 125 guineas. The buyers included the Dukes of York and Bedford and Lord Grosvenor.55 His racers, too, were sold at the Newmarket Spring meeting, the stable servants going to other establishments.56
The year 1792 added further matters of concern to Prince George: sheltering French exiles. The Prince of Wales earmarked Kempshott as a haven, putting his stables at their disposal. Gallic nobility eagerly accepted the invitation to ride with the Kempshott Hunt. And, by taking full advantage of the Prince's generosity much stress was caused to the head groom, Gascoygne, and to the other grooms, who found little time to relax as they tried to cope with the demand for horses.57 The staging of a grand Anglo-French stag-hunt must have further vexed the grooms. With a preposterously large field planned, the Royal stable was requisitioned and supplemented with ten post-horses from Demezy's, a well-known inn at Hartford Bridge, very popular with the emigres and the Prince's other guests, being some twelve miles north-east of Kempshott. With the hunt underway and the assembly in excess of five hundred, any suspected indiscipline among the French soon became apparent as they strayed from the main field. Sharp's fortitude and forbearance were also tested whenever the hounds lost the scent, for, viewing all wildlife as fair game, the Frenchmen would thrice blow their horns, putting the hounds onto a hare. The emigres insistence on wearing national hunting dress, with long horns over their shoulders, had also caused astonishment to the local riders and populace. Also present was the Prince of Wales' younger brother, William, the future King William IV, who had fallen from his pony into a deep ditch. Being a young and inexperienced rider, such accidents were not uncommon for him. At another Kempshott sojourn, the royal midshipman, on leave from Portsmouth, nearly fell from a Hartford Bridge hack but was saved by the young Stephen Terry riding his black pony, Sylf. The near-accident had happened while jumping a fence from the turnpike road into North Waltham field at the corner of Gander Down - this location possibly being north-west of Kempshott House, within the Kempshott estate. Terry foresaw a potential disaster and, during his reminiscences, mused:
...The Prince alongside me I grasped at his knee
When tottering off as I could well see
I set him quite firm upon his behind
That this time he sh[oul]d not his father earth find...
The action of a commoner suddenly seizing a prince shocked French aristocrats, initially. With the Prince of Wales openly thanking him, however, they realized what had happened and applauded. Terry recounted:
...French Noblessee then gave me some cheers
Young Middle went on without any fears...
The extraordinary Anglo-French spectacle was the first of several hunts in which Terry and Prince William rode together, with scarcely fifty riders remaining at the finish. The 1792 season ended on Thursday 12 April, recommencing on Friday 19 October.58
In 1793, the 'Prince of Wales's Fox Hounds began hunting in Mr Poyntz's Country'. This unexpected transition poses the question of why the Prince should have wanted to duplicate his activities with the H.H., having enjoyed his 'own Staghounds much more than the neighbouring Foxhounds'. An explanation may present itself here. The transition to foxhunting and the first recorded hunt of 1793 coincided on 11 February. This change and late start - without the Prince in attendance - suggests possible difficulties for the Kempshott Hunt at this time. With the Prince having become 'rather too robust for the energy and Labour of a Nimrod', notwithstanding his thirty years of age, and the result of very hard living (discussed further in Part III), were there concerns about his future attendance? Perhaps forseeing the Hunt withering from such uncertainty, the Prince may have considered that the Hunt's survival chances would be improved if he capitulated to members' preferences for vulpine quarries.
This preference is reflected in recorded attendance figures. The largest field ever recorded for the Kempshott Hunt was on 15 March 1793, a foxhunting field, when thirty-four riders were present, besides Sharp, Dean and Farrell. The fourth largest field overall [and the second largest foxhunting field] was on 20 March 1793 when twenty-seven riders and four hunt servants were present. The Prince, notably, was absent on both occasions. The nearest comparable figures for stag-hunts were on 22 January 1791 when twenty-nine riders and four hunt servants were present [the third largest overall] and on 1 February 1791 when thirty-one riders and three hunt servants were present [the second largest overall]. The Prince, though, was present on both occasions. The maximum stag-hunting fields in the Prince's absence, however, each totalled just fifteen, on 6 January and 16 March 1792. During the Prince's abstention, therefore, earlier stag-hunting fields were low, later foxhunting fields, high. There is a notable reversal, though - the figures for 23 February, the date of the Prince's first hunt of 1793. Notwithstanding being a foxhunt, he was accompanied by only five principal riders - one of the smallest fields ever recorded with the Prince in attendance. Whether this indicates a partially closed field because of his increasing corpulence can only remain speculative; after all, there was a very low attendance figure two years previously at a stag-hunt on 18 February 1791, when just the Prince, Poyntz and 3 hunt servants were recorded as being present. The difference between the two, however, is that in 1791 the Prince also rode with larger fields, having led ten recorded hunts, and in 1792 having led eight recorded hunts. This contrasts with 1793, where, as master of foxhounds, he led just two recorded hunts, on 23 February and 4 March, the former being a very small field; the latter being a slightly above average foxhunting field with the Prince in attendance - twenty riders and four hunt servants.59 Again, the impression emerges that change to the Kempshott Hunt's agenda was linked to its survival. Such a move, however, appears not only to have succeeded but to have also boosted support considerably - most notably in the Prince's absence! His increasing corpulence was mercilessly exploited by his critics. With the exception of loyal local newspapers, the Prince often became the high profile victim of journalistic lampooning, James Gillray's savage 1792 cartoon, for example, depicting him as 'A VOLUPTUARY under the horrors of Digestion' - further comment is unnecessary.
Kempshott, though, still had another full complement of horses and hounds at the beginning of 1793. The stables contained thirty-seven hunters, with the kennels having thirty-three couple of hounds - seven couple being newcomers. Notwithstanding the former status of many as staghounds, an enthusiasm for Reynard was evident on 7 January 1791, having tracked a fox for nearly an hour, and being the first pack of beagles to be noticed in the county. The Prince's first hunt of 1793 ended with a fox running into a farm brew-house, doubtless a major topic of conversation at the next hunt dinner. The final hunt of the season, on 30 March, had seventeen members - two members of the Chute family, powerful Hampshire landowners of the Vyne estate, having headed the Hunt list - and four hunt servants present. The plucky fox escaped, the hounds having scented a multiplicity of hares for about half an hour. The lost quarry, though, was not only the season's finale; it was the finale of the Kempshott Hunt, disbandment occurring soon afterwards.60
Evidence for the Hunt's decline is fourfold:
Firstly, the Prince's increasing debt crisis undoubtedly had scathed his Kempshott establishment (also discussed in Part III). His Solicitor-General, John Anstruther, had written to Captain J.W. Payne, RN, the Auditor and Secretary of the Duchy of Cornwall, on 29 September 1793, reminding him 'to enforce the bringing the Hunters now there [Kempshott] to sale soon. They are not only a Large Expence but also afford an ostensible reason for keeping the place'.61
Secondly, Anstruther's directive was implemented probably by mid-November at the latest, the Hampshire Chronicle having reported that a 'large string of the Prince of Wales's blood hunters were sold by the hammer at Tattersal's, for very inferior prices to those which were expected for them'.62 This suggests an emergency sale, and is likely to have included much of the Kempshott stable.
Thirdly, Poyntz' record ends on 30 March 1793.63 Had the Kempshott Hunt remained operational, Poyntz, almost certainly, would have ensured that subsequent hunts were logged. His manuscript, written by three different hands, suggests a determination to maintain an account of all the Hunt's activities from January 1791.
Finally, the absence of any more prestigous hunt reports in the main local newspapers, the Hampshire Chronicle and the Reading Mercury, strongly point towards the Hunt's dimunition at this time.
The royal Kempshott Hunt now had become a part of Hampshire's history. George Sharp, having been the Prince's huntsman for three years, was appointed to the King's stag-hounds. He received a life pension from the Prince and was said to have saved a good deal of money. Charles Davis, the Queen's huntsman, married his daughter. George Sharp eventually was buried at Dummer. The Prince, while at Kempshott, remained a member of the H.H. In 1795, shortly before giving up the Kempshott Estate, he bestowed upon the Hampshire Hunt membership the honour of wearing yellow buttons displaying the Prince of Wales' feathers, surmounted by the monogram 'H.H.'. Similarly, Kempshott Manor was bestowed with permission to adopt the royal plumery64.
Copyright (c) 2013 Christopher Golding