III
KEMPSHOTT HOUSE
Homeground, Inquisition, New Direction
Kempshott, besides being a royal hunting lodge, was also a royal home. Each floor of the interior would have been prepared in accordance with the Prince of Wales' exacting instructions.1 The interior decorations, most likely, were influenced by Henry Holland, the Prince's architect, who had introduced colour into the interior of the Marine Pavilion at Brighton (then, Brighthelmstone) a year or two earlier. The Pavilion's dining-room ceiling was sky-blue, the panels dark maroon, the furniture and decorations yellow. In the entrance hall the woodwork was grained, perhaps the first instance of an attempt to introduce French graining into England. The hall walls were painted green and the ceiling of the staircase grey picked out with white. All the corridors were painted French blue. Kempshott House doubtless received similar consideration, with overall expenditure on 'property at Kempshot' having been 'far above the Value of £4,300'.2
Formal entry to Kempshott House was via the south-east entrance, reached by ascending a short flight of stone steps leading to the portico or vestibule. At the top, a visitor was confronted by three solid mahogany doors: one each for the left and right hand quadrant wings and one which opened into the 'Hall of communication to the principal apartments'.3 Holland's proposals in 1795 for major alterations, four superlative drawings having been submitted to the Prince, consisting of North-West Elevation, Principal Storey, Basement Storey and Bedroom Storey - located at the Print Room, Windsor Castle - greatly assist in interpreting the actual interior of Kempshott House in the late eighteenth century.4
The Principal Storey
THE SALOON (29' long, 20'6" wide, 13'10" high) or Salon as Holland preferred to maintain, was the ceremonial centre of Kempshott House, opening onto 'a stone circular gallery [balcony] with views to the Park and Plantations'. The term 'Saloon' was a consequence of the French influence into English formal plan in the late seventeenth and early eighteenth centuries.5
The 'tasteful decorations... added to the interior' by the Prince, mentioned by G.F. Prosser in his 1833 description, included wall panels for the saloon - a number of which are recorded as having been sold by the Kempshott Estate in the earlier part of the twentieth century to a collector in the United States of America. These were featured at a historic rooms exhibition shortly afterwards. They are watercolour prints on tinted distemper ground and likely to have been painted by Louis Andre Delabriere, the French painter engaged by Holland on the Prince's decorations in Carlton House - Holland had started studying French decoration at this time.6 There are twelve pilaster panels, 13" wide, and eight large bordered panels ranging from 30" to 35" in width. All are 9'4" high. They are composed of various motifs stamped on small sheets, averaging 11" x 21", which were joinded together before printing. The panels' background is soft apricot varied with cream, while the basic tone of the pilaster panels is a dark green. All the panels are separated by bands of light green which form a stile and rail enframement. They are in a style of Gallic Neo-classicism mixed with Greco-Roman motifs favoured by Holland. In 1929 the Kempshot House, Adam Room at the St Louis Art Museum, Missouri, USA was presented - although three of the overdoor panels were finely reproduced. The room and its furniture show dependence on the style of Robert Adam (1728-92) although not designed by him.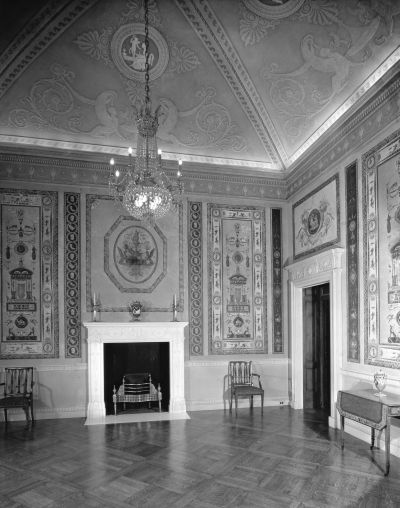 Kempshot House, Adam Room, 1929
Reproduced by Kind Permission of the St. Louis Art Museum, Missouri, USA.
The ceiling's plasterwork probably derived from an antique Roman source of precisely the type being drawn at this time by Charles Tatham under Holland's encouragement. This is unlikely to have been an accurate recreation, however, the original saloon ceiling at Kempshott probably having been coved. The chimney piece, although a Kempshott artefact, came from another room.7 The actual Kempshott House saloon at the time of the Prince's occupation was without one, its omission the consequence of the maxim that the central room 'need not have a chimney, because it is for passage, short attendance or diversion'.8 Holland planned one in 1795, however, for the proposed revisions to Kempshott House.
THE EATING ROOM (29' long, 20'6" wide, 13'10" high), situated in the east wing, north-west front, was an essential element of the late eighteenth century house, general changes in fashion having led to the permanent establishment of a room in which to dine. Late eighteenth century dining rooms were now furnished with a large central table often made of mahogany. The post-prandial custom emerged at this time of gentleman remaining seated at these structures while the ladies withdrew to the drawing room. Records of the contents and layout of the dining room at Kempshott, if they exist, remain elusive. However, it is certain that there was a statuary marble chimney-piece and solid mahogany double doors. To exemplify the furnishings likely to have been within the dining room at Kempshott House, extracts have been taken from a remarkable, full inventory to The Grange, Northington, Hampshire, which the Prince took after he relinquished Kempshott. The inventory is held at the Royal Archives, Windsor Castle, and featured in a detailed article by Professor Jane Geddes: The Prince of Wales at The Grange, Northington: An Inventory of 1795. Spellings having been minimally modernised where necessary:
A large steel grate, return feet fender and fire irons.
Three crimson mixed damask festoon window curtains.
Two pier glasses in carved and gilded frames.
Two mahogany pier tables richly carved with doors at each end and cupboards under.
A 6' 9" mahogany sideboard table on six fluted feet.
A japanned plate warmer.
Two mahogany pedestal plate warmers lined with tin and fitted up for plates,
with iron partitions and four heaters.
A set of mahogany dining tables in three parts consisting of nine leaves in all, 20' long,
4' 8" wide and leather covers (the eating room at The Grange was approx. 29' x 26').
Twelve mahogany round back chairs, backs and seats stuffed and covered
with satin, hair cloth and finished with brass nails.
Two mahogany three tier dumb waiters
A mahogany celleret brass hooped and lined with lead.
Two canvas panelled folding fire screens, mahogany frames.
Two marble top sideboard tables, 6' long on mahogany carved frames with leather covers.
Two mahogany wine cisterns with large brass handles.
A large India floor mat.
A Turkey carpet 22' 9" long, 20' 6" wide (doubtless c.15' wide for Kempshott).
Three Venetian window blinds and three window bells.
Henry Holland's planned new dining room (36' long, 24' wide, no height specified) with balcony, to be situated in the proposed east pedimented wing, north-west front, would have resulted in the front of the existing dining room becoming an ante-chamber - a general reception room where guests could gather before dining. The rear of the existing dining room was to be converted into a bedroom or private retiring room, for use 'to accommodate any guest, who may find inconvenience in ascending a staircase'.9
THE DRAWING ROOM (25' long, 20'6" wide, 13'10" high), situated in the west wing, north-west front, is likely to have contained, inter alia, sofas and chairs, sofa tables, tea tables, card tables, small work tables and a piano. Extracts are again taken from the inventory to The Grange's similarly sized drawing room, to exemplify the furnishings likely to have been within the drawing room at Kempshott:
A bright register stove, bond fender and fire irons.
A mahogany sliding fire screen with balance weights.
Two tripod candlesticks by Wedgwood.
Two cabriole sofas richly carved and gilded, covered with blue damask and gingham cases.
Ten cabriole chairs in suite with gingham cases.
A pair of square mahogany folding card tables, lined.
A square mahogany Pembroke table containing a backgammon and chess board with ivory men.
A set of chess men, boxes and seven dice.
A three foot round mahogany table on pillar and claw.
Two pier glasses in richly carved gilded frames.
A Wilton carpet and an India mat.
Three blue mixed damask festoon window curtains.
Three green Venetian window blinds, fixed.
Three gingham check curtains lined with white calico and tassels (for summer use).
The new drawing room, with balcony, to be situated in the proposed west pedimented wing, north-west front, like the dining room, was to measure 36' long and 24' wide. The plan has a pencilled scribble on it reading '18 ft Height', suggesting that the internal height of the new wings' rooms had yet to be agreed. The existing drawing room was to be converted into (1) an ante-chamber, 20'6" x 14', at the front and which was to adjoin the proposed new drawing room, and (2) an ante-room to the royal apartments at the rear together with a private staircase. The two ante-chambers proposed for the existing dining and drawing room areas also would have served as private sitting rooms.
Any special furnishings commissioned by the Prince for Kempshott House are again exemplified in the article by Jane Geddes: 'The royal accounts ... suggest that the Prince was taking a more personal interest in the place. The furnishings were being improved: Robson and Hull were paid to hang paper; Kent and Luck provided more carpets and N. Morell was paid over £500 for the upholstery. The Prince of Wales commissioned some significant statuary from Peter Chenu. This included a candelabra figure "near 6ft high for the ground staircase from an approved drawing"; "four boys 4ft high holding lamps in immitation [sic] of bronze, made on purpose for the gallery"; two large busts over the gallery door; a bust of Ariadne for the dining room; "two figures Flora and Ceres, for the nitches at the bottom of the ground staircase with pedestals"; two vase lamps with two burners each and shades, japanned and richly ornamented'. The article also refers to the Prince's large arrears for a wine account, and the servants' pay roll shows he was employing a large staff.10
Information about Peter Chenu is available from the National Portrait Gallery, London, at www.npg.org.uk. The website also refers to the Prince of Wales having purchased a variety of sculpture from Chenu in 1799 for £153 15s 4d for The Grange, to include the aforementioned candelabra figure.
The Basement Storey (Rustic)
The room of the household steward, Mr Hicks, was within the rustic, together with the room of the housekeeper and the servants' hall. The relatively spartan servants' hall would have contained items such as:
A range fixed in brickwork, an iron return fender, shovel and poker, clothes presses made of deal with doors, a hall table on a frame with a flap, long and short forms, benches with backs, three-legged stools, a wooden beer wagon with a drawer, a beer stand on three horns, copper beer pots,
a beer cupboard, a square dressing glass, curtains on iron rods, wig blocks and a boot jack.
Holland's proposed conversion of rooms within the rustic, north-west front, for use by the Prince and his male intimates, specified a Hall (29' long, 20'6" wide, 8'5" high), an adjoining room (19' long, 14' wide, 8'5" high) with a new billiard room on the opposite side (20'6" long, 14'9" wide, 8'5" high) - the game of billiards had become increasingly fashionable in the late eighteenth century. Additionally, a descension of the grand (or great) staircase was proposed with access from the Hall. The proposed pedimented wings, at rustic level, were to contain the new quarters for both steward and housekeeper - the steward in the west wing, the housekeeper in the east wing. Each was to have two large, comfortable rooms, suggesting an increase in status. Natural light, however, would have been restricted, there being just one window proposed for each of their two rooms, outlooks being towards the quadrant wings, south-east front, only. Their actual quarters, by comparison, would have been modest.
Awaiting Illustration
Proposed Basement Storey Extension, North West Front (Detail)
The left (east) brick plinth contained the proposed housekeeper's
rooms, the right (west) plinth contained the proposed steward's rooms.
The three-windowed bow was to front the Hall, with the billiard room to
the left and another room to the right. The pillared loggia was to remain unaltered.
The steward had responsibility for running the household, with most male servants, excepting the stable staff, being under his overall control. The housekeeper was responsible for cleaning the house, looking after the linen and overseeing the female staff. A still-room may have been part of her quarters, being used mainly for making preserves and cakes - rather than distilling cordial waters used for medicines or scents, as in the previous century. They would have been permanently resident, unlike the majority of the household staff who would have travelled with the Prince to his other establishments. A household of at least fifty doubtless were engaged at Kempshott, to include the stable and laundry staff.
Whether a heating system similar to the one installed at Brighton was present in the rustic is speculative. If there was, then, there would have been no lack of warmth during the winter months. The Prince's patent stove at the Pavilion heated the ground floor rooms like 'gingerbread ovens' causing guests to remark that the prospect of hell fire would no longer be a novelty.11
The Bed Chamber Storey
The grand staircase from the Hall lead to the bed chambers, there being seven within the main house. The State Apartment most likely was located in the north-west bow. Unusually, Holland's plan suggests the absence of a dressing room, doubtless because of Kempshott's comparatively modest size. The service staircase was adjacent to the south-east bow. Extracts are again taken from the inventory to The Grange, to exemplify the sort of furnishings contained within the State Apartment:
A steel grate fender, fire irons, brush and a compass wire guard.
A mahogany wardrobe with cupboards at each end, six sliders in the middle
covered with green baize and four drawers under.
A four post bedstead carved and fluted, mahogany feet posts with crimson
mixed damask furniture and covered cornice.
A straw palliase in ticken case (ticken = stout bedding cover, usually striped linen)
A hair mattress in ticken case.
A bordered goose bed bolster, two tick and two fustian pillows.
Four large blankets and a white linen quilt.
Damask window curtains to match the bed with laths, lines and balance weights.
Venetian window blinds, fixed.
A pier glass 45" by 27" in a gilt frame.
A mahogany chest of drawers secretaire drawer.
A mahogany dispensary with bottles, drawers and medicines, complete.
A mahogany chest of four drawers.
A mahogany carved commode chest of drawers with writing drawer slider.
A mahogany night table openwork front stone pan and mahogany pot cupboard.
A mahogany Pembroke table with drawer.
A small screen on a mahogany pillar and claw.
A deal folding airer, six back stool chairs with check cases.
A Turkey carpet and a Wilton round bed carpet.
The walls of the room hung with crimson damask.
A veined marble hearth jaumbs and lintel carved and party gilt mantle and ornaments.
A brass night bolt and a iron bar to one door.
Holland proposed new State Apartments with entry via a private staircase on the principal storey (see above - Principal Storey: Drawing Room). The principal bed-chamber, with dressing rooms or closets, was to be situated in the new west pedimented wing; a second, adjacent bed chamber was to be in the central block (the existing house). Alterations would have provided at least eight guest bedrooms, with more within the proposed attic storey. Holland's Bed Chamber Storey plan is incomplete, though, there being no indication of other bedrooms' status. Pencilled alterations, perhaps by the Prince, suggest that the plan had yet to be accepted. Storeys were proposed for the quadrant wings at this level, doubtless containing new servants' quarters.12
The Quadrant Wings - Principal Storey
The quadrant wings at principal storey level, reached via corridors in Kempshott House, contained the breakfast room (19' square), sleeping rooms and the Prince's billiard room. The mahogany billiard table is likely to have been twelve feet long with 'a ticken cover', plus ten ivory balls, forty two cues and maces and two markers. These rooms were in the east wing. Other rooms at this level are likely to have included the cook's room, servants' bedrooms and other rooms of office not contained within the rustic. The absence of a butler's pantry was usual where a household steward was engaged, the duties being performed by an under-butler. Some rooms may have been under utilized or unused as a result of unavoidable extra space caused by the wings' symmetry - vaguely resembling a crab's pincers. The ends of each pavilion supported the partial roofing of the walled basement yards. The east pavilion contained the upper storeys of the bake house, scullery and kitchen. The west pavilion contained the upper storeys of the washhouse, brew house and laundry.
Holland's only other proposed external addition at this level was the upper section of a wall to enclose Office Court, reducing the entrance to just over ten feet. The reason for such a seemingly idiosynchratic proposal is intriguing. The entrance would have been suitable for a suburban villa, but in the country faster carriage drivers might have needed great care not to engage either pillar!13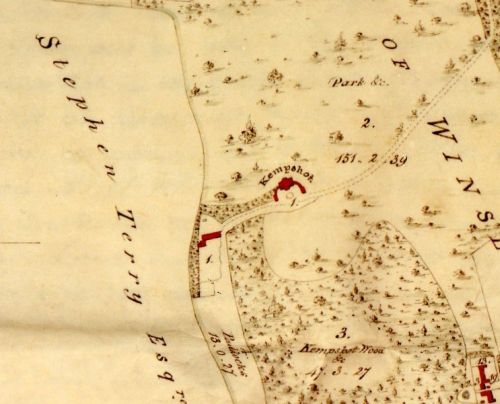 Kempshott Estate Plan, 1832 (Detail)
Showing Kempshott House with quadrant wings surrounding Office Court.
The stable block is to the lower left, with Kempshott Home Farm to the (much) lower right.
Special Photographic Reproduction by Courtesy of Hampshire Record Office
The Quadrant Wings - Basement Storey
The quadrant wings at rustic level contained the service areas. On the east side, furthest from the House, the Prince had had built a well-house, measuring 28' by 17', this being attached [mainly] to the bake house and [partially] to the kitchen. The double well had a likely depth of 300 feet. The well-house wheel, when turned by a man (or by a woman walking inside a much bigger one for larger well-houses), sent water up through a conduit into the cistern, 5' by 4', located above the well. Water would then have been pumped into the building through a system of conduits.
Attached to the bake house, 16' by 11', was the scullery, 16' by 10', with two sleeping rooms over.
Adjoining these offices was the kitchen, 24' by 17', being 'lofty, and too far removed from the House to suffer inconvenience at dinner time'. The range, 9' by 4', was situated against the east wall, the boiler doubtless fed by wood or charcoal. It had a brick oven with iron doors, and seven hot plates or stewing stoves - four large ones at the front, three smaller ones at the back. Adjacent to the range was a large fireplace for spit-roasting meat. Royal cooks, such as J. Gody, prepared soups, boiled and roasted meats, and were assisted by kitchen yeomen, grooms, children and roasting boys, with the menial tasks being undertaken by the lowest ranking staff. Louis Weltje, from the Duchy of Brunswick, Comptroller and Clerk of the Kitchen and Cellar, doubtless learned of the Prince's emerging enthusiasm for Indian cuisine while at Kempshott. The royal palate became somewhat underwhelmed by traditional English fayre. Cooks specializing in the finest curry dishes were engaged - directly from India, leaving the Prince's established Kempshott cooks often serially underemployed whenever their culinary brilliance was rejected.
The bake house had its oven, 8' by 8', the other side of the kitchen fireplace. Bread may have been baked by contracted household servants. It had four larders and would have been comprehensively equipped with items such as:
flour bins and covers, bread bins, a kneading trough, bread rasps, a wooden pail for ice,
a foot tub, a salt tub and cover, a range of wooden cupboards (probably made of deal),
a bacon rack with iron supports, a sink with brass service cock, a candle box, pewter freezing pots,
moulds and covers, a copper still, and an iron furnace.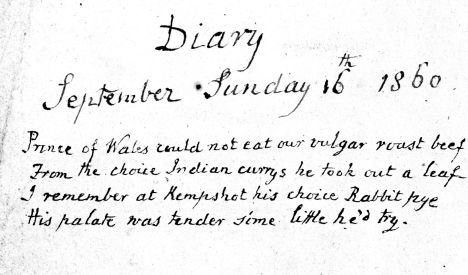 Extract From The Diary and Memoirs of Stephen Terry
(H.R.O. 24 M49 20)
Special Photographic Reproduction by Courtesy of Hampshire Record Office
The scullery staff took care of the plate, the dishes and covers, laying them out before dinner, collecting and washing them afterwards. The clerk in charge had responsibility for the area for cleaning knives and for supplying the coal, wood and ash houses. The clerk may also have had responsibility for the pastry office should this duty not have been undertaken by the clerk of the kitchen. Equipment and contents of the scullery would have included:
A large copper (possibly a double copper) with cover(s) and service pipe, plate racks, a dish tub,
pails, a wooden sink lined with lead with brass service cock, a dresser with cupboard below,
a tier of wooden racks for vegetables, a wooden coal bin and a wooden jelly bag stand
The pastry office, situated in the arc of the east wing and covering an area equivalent to c.270 square feet, was for the making of bakemeats, of pies and tarts and some sauces by pastry cooks, such as C. Taurade, and their assistants, also preparing one of the Prince's Kempshott delicacies - his choice rabbit pie. Because of Kempshott's size, overall responsibility for this area may have lain with the clerk of the kitchen, this being a separate office in larger royal households. The smell of roasting meat from the kitchen and of Weltje's speciality, gingerbread, may have permeated the entire wing.
Other offices on this side were concerned with receiving, storing and distributing items to other offices, such as meat, fish, salt and bacon, fruit, spiced foodstuffs, wax and tallow candles, and poultry, which will also have been slaughtered and processed.
The brew house, 19' by 14', the main feature of which was a large brewing copper, set in brickwork, with a likely capacity of at least four hogsheads (about 200 gallons), supplied the Prince's strong beer and small beer cellars, these being situated in the rustic of Kempshott House. The brewing copper would have had an iron door, a large brass cock and a large brass service cock. Other equipment within the brew house would have included:
A small copper set in brickwork, mash vat(s) on a wooden frame(s), pumps and lead pipes,
coolers made of deal set on wooden frames, iron-bound wooden tubs, wooden funnels,
liquor spouts, hand bowls, brewing pails, wort troughs, drip tubs, a bearing tub and pole,
step ladders, a hop basket and stand, mush stirrers, a skimmer, a long iron fork,
a long iron scraper and a pair of iron slings.
The brew house was overseen by the clerk of the kitchen and cellars.
In the wash house, 21' by 16', laundry maids would have been engaged in tiring, hot and smelly work, and overseen by the housekeeper. After clothes had been dried in an upper room, the laundry, 19' by 19', with cellar, received them for final preparation, finished articles being sent to the storeroom.
The basement storey exterior was partly below ground level on the south-east front. Apart from the lower section of the new wall to Office Court, no other additions were proposed by Holland in 1795.14
The resident staff of any eighteenth century country house needed furnished accommodation, Kempshott House fulfilling its responsibilities in this respect by contracting with a supplier in Basingstoke. Surviving ledgers of 'John Ring, Auctioneer and Furnisher', provide a unique insight into the actual furniture and effects supplied to Kempshott House between 1790 and 1795. The first delivery is recorded as being on 18 May 1790. These, what are in effect, partial inventories for (mainly) bedrooms and other quarters, also include the specification and price for paper hangings, or wallpaper as it became known from 1827, and borders for differentiating each section, destined for the room of the household steward, Mr Hicks, as well as the costs of paste and two days labour. One of the most striking aspects of the ledger is the remuneration paid to the skilled decorator: 3s 0d per day. This contrasts poignantly with the price paid for the finest champagne which the Prince and his male intimates will have consumed: 10s 6d per bottle. The ledgers are reproduced below, the transcriptions having been modernized where necessary and the layouts contracted. Part of this inventory may even have been allocated to French emigres. Some items, usefully, had a good residual value, for example, bureau bedsteads. The first ledger heading refers to:
'HIS ROYAL HIGHNESS PRINCE OF WALES KEMPSHOT'

Entries from 16 November 1790 to 20 May 1795 have two styles of heading:
'ROYALL HIGHNESS PRINCE WHALES'
and
'HIS ROYAL HIGHNESS PRINCE OF WHALES KEMPSHOT'
These (presumably) honest and wonderfully amusing faux pas, being almost moving in their simplicity, were corrected only from 2 May 1794, when the letter 'H' was crossed through several times, thereby reviving the Principality. The inventory, with total prices in brackets and comments in italics, is as follows:
1790
May 18 7 pieces of paper [hangings] No.9027 @ 4s 3d each for Mr Hicks's room (£1 9s 9d)
14 pieces of half-border for the above (3s 6d)
6 splash back dyed ash chairs @ 6s 6d each (£1 19s 0d)
2 arm splash back dyed ash chairs, rush seats to suit @ 8s 6d each (17s 0d)
2 best 10/4 coverlids @ 11s 0d each (£1 2s 0d) Coverlid - see below Oct. 11, entries 5 & 6
A best goose bolster, weight 5lbs 5ozs, 4lbs feathers @ 2s 3d lb (15s 0d)
3 pieces of brass to sideboard table (1s 4d)
2 days workman's labour papering (6s 0d)
Glue flour (1s 11/2d)
(Possibly all of the above related to Mr Hicks' room)
Cart, horse & turnpike, going over with above (4s 9d)
June 5 Mending ( ? ) face screen, 1 new leg (3s 6d)
1 day's workman's labour, ( ? ) paints & brass finished (3s 6d)
Oct 11 Bedstead ( ? ) tester check furniture (£1 15s 0d)
Trump bedstead and sacking (14s 6d) Trump = cheap
2 feather beds, 2 bolsters (£6 10s 0d)
A pair of pillows (9s 0d)
2 large coverlids (£1 6s 8d) A coverlid was the outer covering of a bed, also known as a coverlet
2 pairs 9/4 blankets (£1 17s 0d) 10/4, 9/4, 8/4 etc. seemingly are 18th Cent. 'tog' ratings
1 pair 8/4 blankets (15s 0d)
A walnut dining table (£1 1s 0d)
An ash dining table (19s 6d)
9 ash chairs (18s 0d)
4 ash chairs (8s 0d)
3 deal dressing tables @ 6s 6d, 6s 6d, 7s 6d (£1 0s 6d)
A glass in swing frame @ 5s 0d, 1 other same @ 3s 0d (8s 0d)
1 pair deal chest drawers, coloured (£1 10s 0d)
1 pair wainscot chest drawers, coloured (£1 11s 6d) Wainscot is a superior wood
2 pairs shovels & tongs (5s 0d)
2 lanterns @ 4s 6d, 2 flat candlesticks @ 1s 4d (5s 10d)
2 extinguishers @ 0s 5d, 2 pairs of snuffers @ 0s 12d (1s 5d)
Glass lantern (2s 3d)
Total cost of above: £29 4s 51/2d
Nov 16 Bureau bedstead painted in imitation mahogany on casters (£1 15s 0d)
Bureau bedstead = a folding bed concealed in a carcass and outwardly resembled a bureau
New feather bed, bolster and pillow (£3 12s 6d)
Swing mahogany-framed mirror @ 5s 6d, 3 fixed mahogany-framed mirrors (£1 1s 6d)
Fire shovel tongs and poker (4s 1d)
Pair of 8/4 blankets @ 15s, one 7/4 blanket @ 6s 6d (£1 1s 6d)
Coverlid (8s 0d)
Feather bed, bolster, pillow (£3 12s 6d)
Nov 29 Three blankets, two 8/4, one 7/4 (£1 1s 6d)
One 9/4 cotton counterpane (£1 1s 0d) Similar to a coverlid
1 wainscot bureau bedstead on casters with brass furniture (£2 5s 0d)
2 mats to pack 2 bureau bedsteads (2s 0d)
Dec 15 18 yards of white curtain line (2s 0d) Line is a form of linen
A white tassel (1s 0d)
Deal dressing table, no drawers (6s 6d)
2 swing dressing glasses @ 5s 6d each (11s 0d)
6 pint tin cups (2s 0d)
1 long cord to bind goods on wagon (1s 0d)
July 23 1791, Bill delivered to Mr Hicks, £53 18s 61/2d
April 21/2 dozen best white line @ 15d dozen (3s 11/2d)
May 2 8 short and 2 long bed screws (1s 10d)
Apr 27 A white tassell (1s 2d)
May 4 6 yards of sash line (0s 9d) possibly material for scarves
5 1 pair of sacking bonnets for bedstead (2s 0d)
8 1 pair as above (2s 0d)
Mahogany tea board 5s 0d, dressing glass 5s 0d (10s 0d)
June 8 Hare ? line (6s 0d)
Sept 5 Mat 11' 6", cupboard 10' 6", for Mr Rediford cost included below
Red leather ( ? ) and binding for Mr Rediford (£1 2s 0d)
400 of Princes metal chair nails @ 7s 6d per 1,000 (3s 0d) 'Princes' - a brand name ?
25 Wainscot chair table (13s 6d)
Bill to His Royal Highness £31 10s 81/2d
Mat to pack the chair table if not returned (1s 0d)
Oct 31 100 Princes metal chair nails, Mr Reddeford (0s 9d) alternative name spelling
Nov 29 Chiming clock in a wainscott case, Mr Reddeford, (£4 10s 0d)
Box to pack clock if not returned, as above, (no price specified)
Pair flat irons --------------------Prince------------- Mr Rediford (2s 11d)
Dec 1 Chimney glass, 3 plates in a black frame, Mr Rediford (£1 5s 0d)
Mr Rediford/Reddeford possibly was a senior member of Mr Hicks' staff
1793
Jan 2 Pair of Princes metal candlesticks (5s 6d)
A figure underneath reads: £32 9s 71/2d
Feb 2 - child's chair 2s 0d - 1 same 1s 0d (3s 0d)
Mar 11 New bottoming for 2 dyed chairs (2s 4d) probably made of ash
April 1 New bottoming for 1 dyed chair (1s 2d)
May 13 New bottoming for 1 dyed chair (1s 3d)
Paid August 9 - 1793 £32 14s 41/2d
Royal Highness Bill £32 14s 41/2d
Mr Rediford---------- £5 18s 9d Received
£38 13s 11/2d
1794
May 2 5 Quire large blue Elephant paper @ 1s 10d (9s 2d)
Quire = a set of 4 sheets of paper doubled to form 8 leaves, or, 24/25 sheets of paper.
Elephant paper = a size of drawing paper, 28" x 23"
by Mr Other possibly a brand name?
2 Quire of white Cartridge paper @ 2s 0d (4s 0d) Cartridge paper = increased thickness
May 15 6 pieces [wall hangings] No. 10397 @ 3s 10d (£1 3s 0d)
6 pieces [wall hangings] No. 10313 @ 4s 7d (£1 7s 6d)
1/2 pieces border No. 11882, 18 doz, 5s 0d per 12 doz, (7s 6d)
1 pieces border, Flora, No. 8737, 12 doz (10s 0d)
1/2 pieces border, No. 11405, @ 12s 0d doz (6s 0d)
Sept 9 11/2 yard of 3/4 green window binding @ 1s 9d (2s 71/2d)
1795
May 20 One 1 quart and one 2 quart Japand mugs, lipped, no covers @ 2s 4d & 4s 6d (6s 10d)
Japand = to varnish with any material that gives a hard, black finish
A figure underneath reads: Bill £4 16s 71/2d
Sep 9 1796 Mr Ring took bill
with him to Reading - Mr R Received £4 7s 0d15
End of John Ring's Ledger
The Prince of Wales' new Hampshire Seat was shared initially with Mrs Maria Fitzherbert. The unavoidable clandestine nature of their marriage - which had taken place in the drawing room at her house in Park Street, London, at 6.00 pm on 15 December 1785, with the Reverend Robert Burt officiating, having accepted £500 and preferment in the form of the Vicarship of Twickenham - had led her to [officially] reside nearby, most probably at Southwood (see Part One). Mrs Fitzherbert's Catholic friend, Mrs Jerningham, when having learned of the marriage, commented: '... it is a very hazardous undertaking, as there are two acts of Parliament against the validity of such an Alliance: concerning her being a subject and her being a Catholick. God knows how it will turn out'.
Mrs Fitzherbert's influence, though, would have been evident at Kempshott upon occasions of regal hospitality, for example during frenetic summer weekends when guests were likely to have enjoyed a variety of amusements such as cards, music and dancing followed by suppers commencing at 1am, the Prince having kept his guests waiting. These would have been elegant repasts, with the doors of Kempshott House being opened and perhaps leading to illuminated marquees in the Park where the finest hot and cold fayre would have been served. Exquisite champagne at 10s.6d. a bottle will have been consumed, with guests staying until seven or eight o'clock the next morning. On other occasions music, one of the Prince's pleasures, may have permeated Kempshott House, perhaps with guests such as Haydn playing until 2am, the Prince even accompanying him on the violoncello 'quite tolerably'. He may have enjoyed occasional morning musical parties, with his uncles, the Dukes of Gloucester and Cumberland, playing violoncello and violin respectively. The Prince also enjoyed singing, possessing 'an excellent voice which had been cultivated by Latour, the Court music-master'.16 The young Reverend Charles Powlett, writing from Hackwood Park on Tuesday 25 January 1791, to his sweetheart, Miss Anne Temple (later, Mrs Powlett), at St Gluvias, Penryn, Cornwall, describes, inter alia, one of the Balls given by the Prince at Kempshott Park on Friday 21 January, 1791:
'...What will your good Mother say to the following account of the Gaieties of Hampshire, in which no County can equal us , & at present indeed not even London.
The Prince of Wales gave a most superb Ball last Friday to which I had the honor of an Invitation.
among above an hundred people present were
The Prince of Wales Mrs Fitzherbert
Duke of York Duchess of Bolton
Duke of Clarence Lady Caroline Melfort
Duke of Wirtemberg Lady John Russell
Lord John Russell Lady Stawell
Lord Stawell Lady Tichborne
Lord Porchester Lady St John Mildmay
Honble Mr Bouverie Lady Ogle
Honble Mr Pitt Honble Mrs Bouverie
Sir H. Tichborne Honble Mrs Fox
Sir H. St John Mildmay Honble Mrs North
Sir Chaloner Ogle
Sir Robert Sloper etc. etc.
The Ball began at ten & ended at four, it was open'd by the Duke of Clarence & Lady C. Melfort
Tonight Mrs North [wife of the Bishop of Winchester, Dr Brownlow North] gives a Ball to the Prince, to which the Duchess [of Bolton, Powlett's aunt] is gone. on Friday next Sir H. St John Mildmay gives a Ball To the Prince to which all the Party here as well as myself shall go, & on Tomorrow se'[v]ennight the Duchess [of Bolton] will give a Ball here which will be attended by the Three Royal Brothers - Pray give my Love to your Father & Mother, assure them that my Brains are not turn'd by the Gaiety of the Scenes around me & that I would rather pass my time, & that I should enjoy a much greater pleasure in the Society of their Daughter upon the top of St Michael's Mount than I shall ever do in her absence though following Royal Stag-hounds, or mixing with Stars & Garters in a Ball room...'.17
On 16 February 1791, Powlett again wrote to Miss Temple, with every intention of further impressing her with his newly acquired royal connection:
'The Balls at Sir H. Mildmay's & here were very pleasant & ? but I must say the Hackwood Ball far exceeded both the Baronet's & the Prince's - yesterday the Prince of Wales din'd here, indeed it is the second time that I have had the Honor of Dining in his Company since I wrote last. I am happy to say that I am in higher favor with the Prince than ever, as H R Highness not only treats me with great kindness, but a few days ago he spoke of me in the most flattering Manner to the Duchess [of Bolton], & her Grace communicated the welcome Intelligence to me with so much Joy & true Friendship that it drew Tears from my eyes ...'18
Powlett had been in the Prince's favour for some time. Writing to his mother, Mrs Powlett, at Canterbury, on 13 June 1790, he expressed his hope of becoming a chaplain to the Prince of Wales:
'In the evening I went to Bolton house with my uncle, when the Duchess at his request was so good as to say that she would ask the Prince of Wales to make me his Chaplain; this must not at present be mention'd, though there cannot be the least doubt of the Appointment; I am not only his Rector but I have the honor of being personally known to his Royal Highness, besides which he would never refuse a favor to the Duchess of Bolton which it was in his power so easily to grant.'19
Powlett did indeed become a chaplain to the Prince of Wales in 1790, alongside another Hampshire chaplain the Reverend Dr Worsely who, in June 1791, was also appointed Rector of Dummer and Vicar of Arreton.20
The Reverend Charles Powlett (1765-1834), was the son of one of three illegitimate sons of Charles, third Duke of Bolton, his father being the similarly named Reverend Charles Powlett, the H.H. poet. The Duke's mistress, and Charles's grandmother, was Lavinia Beswick/Fenton, a classical actress. He was brought up by his uncle, the sixth (and last) Duke, also Marquis of Winchester, at Hackwood Park. Powlett held various family livings including the rectorship of St Martin-by-Looe, Cornwall (1790-1807), doubtless where he met his wife, Anne 'Nancy' Temple. They were married in November 1796, and had a number of children. Charles Powlett died in Brussels in 1834.
Unlike Charles Powlett's early happiness, though, the Prince's happiness also extended to him and his male intimates often wagering each other until the early hours with vast sums changing hands. On one occasion the Duke of Bedford having lost £30,000 to the Prince, was keen to recoup his losses. The Prince, wishing to retire, challenged the duke saying, 'Bedford .... stake your whole estate upon a single throw [of a dice], and I am your man!'. The Duke, feeling the reproof, 'instantly departed'. Gambling, often accompanying somewhat less reputable company, earned the Prince justifiable criticism, even condemnation. Close friends such as the Dukes of Queensbury and Norfolk, sixteen and thirty-eight years his senior respectively, were celebrated drunkards. There were others such as the Barrymore family, headed by the young seventh earl, nicknamed Hellgate. In the Radical journalist Charles Pigott's publication, The Jockey Club, or a Sketch of the Manners of the Age (1792), the Prince was attacked over his 'chosen companions and confidential intimates' who were alleged to be the 'very lees of society' (OED: lees = dregs, sediment). Sir John Lade was attacked as 'braving decorum' by marrying 'a common prostitute', and gentleman of the bedchamber Lord Clermont was classified as a 'hoary sycophant... remarkable only for his profligacy'. The publication contributed towards damaging the Prince's reputation by highlighting a tendency towards irresponsibility and hedonism. For a young man in his position, though, such extreme criticism may have engendered some good, for, by 1792, supposedly, he had forsaken gambling while at Kempshott, allowing 'no play in his house'.21
The Prince's extravagance was savaged by the same publication, highlighting his 'fresh debts contracted to an enormous amount'. In June 1792 his affairs certainly were 'more distressed than ever', with debts amounting to £370,000,22 a large proportion of which was due to his flamboyant lifestyle and the enormous expense of Carlton House. Lord Wallingford, writing to his sister, Lady Letitia Knollis, at Winchester, on 14 November 1792, commented that the '...P[rince] of W[ales] owes four Hundred Thousand Pounds, & this was announced publickly when the Royal Family were on their Route to ye Play house last wednesday...'.23 Previous parliamentary conditions attached to the Prince's debt settlements had been ignored, resulting in little option other than to reduce his expenditure but 'retaining for himself a portion rather suitable to the comfort of a private Gentleman'.24 The Prince entered into arrangements with his creditors and dismissed his Carlton House staff, Lord Thurlow, the Lord Chancellor, suggesting that he should live quietly at Kempshott. Notwithstanding such assurances, the purchase of Stockbridge House, fourteen miles south-west of Kempshott, inexplicably, was reported as being completed, providing him with another hunting establishment with stabling for at least sixty horses. By late 1792, however, Kempshott House had temporarily replaced Carlton House as the Prince's principal residence. Furnishings doubtless were transferred from London; the Prince's plate was transferred from Brighton.25
Kempshott, though, was not immune to creditors, for, by September 1793, John Anstruther, the Prince's solicitor-general, was anxiously ensuring that a court judgment in favour of one 'Allen' (? Viscount Allen, an Irish peer), was settled early. Seemingly determined to avoid sequestration of the Prince's effects at Kempshott House, Anstruther swiftly despatched a draft for £4,550 - 'which will Cover it' - to Charles Bicknell, the Prince's solicitor, with instructions to negotiate the 'best bargain' he could, and allowing him to 'offer the Amount of the whole Effects at Kempshot... rather than have a Sale'.
Later that month another creditor, Mr Carter, 'had put an Execution into Kempshot for £4,368', despite an assurance from Carter's attorney that any action would be deferred until Anstruther had returned from London. This apparent volte-face had resulted in a mix of seemingly extraordinary events in which a Machiavellian-sounding Carter having instructed another attorney had then proceeded with the Execution, with John Anstruther later explaining:
'... [Carter] owed Money to his Attorney who meant to have paid his own debt out of the Money Carter was to receive in order to Cheat his Attorney he took Another who took out Execution ...'
Upon hearing of the impending legal move, and with Anstruther then in Weymouth, 'Robinson' (? Andrew Robinson, one of the Prince's solicitors) travelled to Brighton Pavilion 'which there was no Reason for' and informed the heir-apparent. An alarmed Prince of Wales then departed for London to seek financial help from 'Dundas' (? Henry Dundas, the Home Secretary), who 'promised to do what he Could to procure a Sum to satisfy all demands'. Preceding this, however, Anstruther 'alarmed by a Letter from Robinson' had made arrangements to pay £2,368 immediately, a draft for this sum being sent to Bicknell, with the remaining £2,000 costs to be paid in half-yearly instalments of £500, commencing July 1794. This was considered to be a favourable outcome for the (? Prince's) Trust Fund as it 'will be then More than Equal to bear this'. Any assumption by Anstruther that the matter had been resolved at this point was premature, of course. From the solicitor-general's very limited correspondence on the matter and the difficulty, therefore, in interpreting these events, one can only guess at Anstruther's thoughts, with many tantalising questions remaining unanswered. Further understanding of the roles played by Carter and his attorney would have been of particular interest.
An Execution, nevertheless, proceeded - its validity perhaps a moot point. A discreet (? bailiff) was received at Kempshott House, although a humiliating situation seemingly was avoided, with Anstruther later writing:
'The Affair made no Noise as the Man went in in [sic] the Ev[enin]g & was not seen by Any body & behaved very well & the affair is known to none but those immediately about the Prince. I found that there was property at Kempshot far above the Value of £4,300 which will be liable to future Execution if the Prince keeps it at Present there is no one entitled to take out Execution but there may & if they learn that there is property at Kempshot they will Endeavour to secure it.'
Matters, though, remained serious. Anstruther's candid conversation with 'Hickes' - most likely Mr Hicks the house steward - caused him further consternation. He learned of the high expense of maintaining Kempshott, added to which were the cost of the rent and the farm's profit being less than 'ever imagined', and 'which the present state of the Princes income will not bear'. Anstruther's solution was for Captain Payne to use his influence and 'endeavour to persuade the Prince to Part with it [Kempshott]'. Additionally, with the Kempshott Hunt having ended on 30 March 1793, and the sale of the stable's hunters imminent from the end of September 1793, 'an ostensible reason for keeping the place' had gone.26
The Prince's situation deteriorated to the extent where London tradesmen refused to execute his orders and even stopped him in the streets demanding payment.27 Many of Kempshott's debts were comparatively small although many larger ones became bonded - converted perhaps into sureties or interest-bearing loans. Anstruther was presented frequently with fresh creditors' lists, although bland assurances from prime minister Pitt of government assistance did not temper his chagrin.28 For the Prince to alleviate a desperate situation, a possible solution took root: a legal marriage.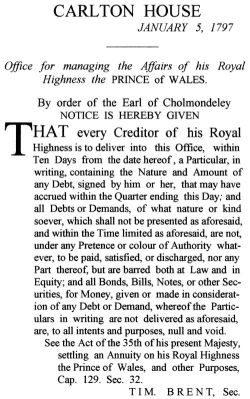 Facsimile of an Announcement Placed in National Newspapers

Taken from the Hampshire Chronicle for Saturday January 14 1797,
and reproduced by Christopher Golding
By the time he had reached this decision the Prince had already separated from Mrs Fitzherbert, their relationship having been in decline for over a year. Hitherto, she had been ready to forgive his casual affairs, considering that he was 'too much every lady's man to be the man of any lady'. The Prince, though, had become critical of her, conveniently accusing her of infidelity.29 His infatuation with Frances, Countess of Jersey, nine years his senior, still in the meridian of her charms and a woman of 'irresistible seduction and fascination',30 probably catalysed the break with Mrs Fitzherbert. Their 1794 separation31 was sealed when Maria received two contrasting letters from the Prince. The first, addressing her as 'My dear love' and ending 'Ever thine', was succeeded by one proclaiming that he could never see her again, which she regarded contemptuously as being 'Lady Jersey's influence'.32 Mrs Fitzherbert, though, retreated quietly and with dignity, declaring that 'the principal object of her life was to study his happiness'.33
By taking this mercenary approach, the Prince doubtless considered himself free to legally marry, the names of two possible candidates, both first cousins, having emerged: the Queen's niece, Louise of Mecklenburg-Strelitz, and the King's niece, Caroline of Brunswick. As early as 1792 there were rumours that the Prince might marry a Germanic princess, in particular the only unmarried daughter of the Duke of Brunswick. The diplomat, Arthur Paget, however, had doubts about such a liaison, suggesting that it could 'draw with it calamities which are unknown or at least forgotten in England'. Another diplomat, Lord St Helens agreed, asserting that it was strange for the Prince to choose a wife whom he had never seen.34 Notwithstanding such reservations, it was left to Sir James Harris, first Earl of Malmesbury, to escort Caroline from the Duchy in November 1794. His first impressions seemed positive:
'... pretty face - not expressive of softness - her figure not graceful - fine eyes - good hand - tolerable teeth, but going - fair hair and light eyebrows, good bust - short, with what the French call "des epaules impertinentes". Slightly later he observed that '... she improves very much on closer acquaintance ...', and was '... very naturally pleasant ...'.
His re-evaluation, early in 1795, considered her personal hygiene to be considerably lacking: '... she neglects it sadly, and is offensive from this neglect. Madame Busche executes her commission well, and the Princess comes out the next day well washed all over'. Writing on 21 January, Malmesbury observed: 'Princess Caroline has a tooth drawn - she sends it down to me by her page - nasty and indelicate'.
On 6 March 1795, he wrote:
'I had two conversations with the Princess Caroline. One on the toilette, on cleanliness, and on delicacy of speaking. On these points I endeavoured, as far as was possible for a man, to inculcate the necessity of great and nice attention to every part of dress, as well as to what was hid, as to what was seen. (I knew she wore coarse petticoats, coarse shifts, and thread stockings, and these never well washed, or changed often enough.) I observed that a long toilette was necessary, and gave her no credit for boasting that hers was a "short" one. ... It is remarkable how ... her education has been neglected, and how much her mother, although an Englishwoman, was inattentive to it. My other conversation was on the Princess's speaking slightingly of the Duchess [her mother, born as Princess Augusta Frederica of Wales, only elder sibling of George III], being peevish towards her, and often laughing at her, or about her'.
Lady Hester Stanhope, Pitt's niece, was another to notice the 'short' toilette: 'She did not know how to put on her own clothes, .... putting on her stockings with the seam before, or one of them wrong side outwards'.35 Malmesbury thought her to be an unsuitable prospect but, as a diplomat, ruled himself precluded from offering any opinion in this respect. His diplomacy is evident from one sentence he wrote in an official letter, doubtless with hand on heart, dated 10 April 1795, and after the royal nuptials: 'The marriage was celebrated on Wednesday, and if they go on as well as they have begun, all will do well'.36
The reason(s) for the Prince's choice are speculative, but the prospect of fresh finance in the event of an approved marriage doubtless played a major part. There was also Lady Jersey's influence, perhaps attempting to safeguard her own position by ensuring the least suitable candidate was chosen. The King's influence cannot be underestimated, however, for he was delighted, considering Caroline to be 'the person who naturally must be most agreeable to me'.37
Malmesbury and Caroline arrived in England on 5 April 1795, a planned earlier arrival having been thwarted by the French conquest of Holland, contrary winds, rough seas and the appalling roads in Germany. His Royal Highness George Augustus Frederick, Prince of Wales, then met Her Serene Highness Caroline Amelia Elizabeth, Princess of Brunswick-Wolfenbuttel, at St James' Palace, London, later the same day.
Malmesbury described the events:
'I immediately notified the arrival to the King and Prince of Wales; the last came immediately. I, according to the established etiquette, introduced (no one else being in the room) the Princess Caroline to him. She very properly, in consequence of my saying to her it was the right mode of proceeding, attempted to kneel to him. He raised her (gracefully enough), and embraced her, said barely one word, turned round, retired to a distant part of the apartment, and calling me to him, said, "Harris, I am not well; pray get me a glass of brandy." I said, "Sir, had you not better have a glass of water?" - upon which, he, much out of humour, said, with an oath, "No; I will go directly to the Queen," and away he went. The Princess, left during this short moment alone, was in a state of astonishment; and, on my joining her, said, "Mon Dieu! est ce que le Prince est toujours comme cela? Je le trouve tres gros, et nullement aussi beau que son portrait." '38
In summary, she found him rude, corpulent and nothing like as handsome as his portrait. Malmesbury, however, was far from satisfied with the Princess's conduct at the dinner party that followed, considering her behaviour to be:
' ... flippant, rattling, affecting raillery and wit, and throwing out coarse vulgar hints about Lady [Jersey], who was present, and though mute, le diable n'en perdait rien. The Prince was evidently disgusted, and this unfortunate dinner fixed his dislike, which when left to herself, the Princess had not the talent to remove; but, by still observing the same giddy manners and attempts at cleverness and coarse sarcasm, increased it till it became positive hatred'.
Following another Carlton House dinner shortly afterwards at which Malmesbury was present, the Prince took him to one side and asked how ' ... I [Malmesbury] liked this sort of manners; I could not conceal my disapprobation of them'. Malmesbury then revealed to the Prince the Duke of Brunswick's advice to him while in the Germanic dukedom: If the Princess was 'not strictly kept, would, from high spirits and little thought, certainly emancipate too much'. To which the Prince retorted:
'... I see it but too plainly; but why, Harris, did not you tell me so before, or write it to me from Brunswick?'. Malmesbury replied:
'... I was not sent on a discretionary commission, but with the most positive commands to ask Princess Caroline in marriage, and nothing more; that to this sole point, respecting the marriage, and no other, those commands went; any reflection or remarks that I had presumed to make would (whether in praise of, or injurious to Her Royal Highness,) have been a direct and positive deviation from those His Majesty's commands. They were limited as they were imperative. That still, had I discovered notorious or glaring defects, or such as were of a nature to render the union unseemly, I should have felt it as a bounden duty to have stated them, but it must have been directly to the King, and to no one else. To this the Prince appeared to acquiesce; but I saw it did not please, and left a rankle in his mind'.39
The royal couple's bizarre first encounter preceded their bizarre nuptials just three days later on Wednesday 8 April 1795, late in the evening, in the Chapel Royal, St James' Palace. The Prince's state of intoxication at the ceremony was partially alleviated by the Duke of Bedford, a Supporter (in every way), who kept the Prince upright. Towards the end of the reception His Royal Highness regained composure and became 'very civil and gracious ... but ... not quite sincere, and certainly unhappy; and, as a proof of it, he had manifestly had recourse to wine or spirits'.40 There is much irony here: the new Princess of Wales was condemned for her coarseness, bad manners and personal hygiene; the Prince of Wales suffered little immediate condemnation for his serial inebriation, not least of which was at the royal wedding.
Civility embraced the marriage for a short time, although their wedding night was a mixture of tragedy and comedy. Later recollections by the Princess, of that night, claim that the Prince had been '... so drunk the night he married that, when he came into her room, he was obliged to leave it again; and he remained away all night and did not return again till the morning; that he then obliged her to remain in bed with him & that that is the only time they were together as husband & wife'. Another unsubstantiated story claims that the Prince collapsed into the bedroom grate and remained there until dawn. Regardless of the actual events, their only child, Princess Charlotte, was conceived within days of the royal marriage, having been born on 7 January 1796. The couple honeymooned, initially, at Windsor, then left for Kempshott on 15 April,41 notwithstanding that the Prince had shared the mansion with Lady Jersey, now a lady of the bedchamber to Caroline, the appointment seemingly a convenient arrangement between the Prince and his mistress.42 The Princess's first impressions of Kempshott House did not endear her to her husband, claiming that:
...'there was no woman there but Lady Jersey and the men very blackguard companions of the Prince's, who were constantly drunk and filthy, sleeping and snoring in boots on the sofas, and in other respects the scene was more like the Prince of Wales at Eastcheap in Shakespear [sic] than like any notions acquired before of a Prince or a gentleman. Their conversation was suited to the rest, and the whole resembled a bad brothel much more than a Palace'.
This account was relayed to Lord Minto, a close friend, in 1798, long after the Prince and Princess's irrevocable separation. He also gleaned from her that 'the mutual disgust broke out at that time'. The Princess, though, was deemed 'not remarkable for her truthfulness',43 and her damning opinion invites comment. Firstly, with the royal marriage being a major constitutional event, surely courtiers would have ensured Kempshott's meticulous preparation? Secondly, the Holland drawings of Kempshott House, dated April 1795, evidence an intention to provide her with an elegant subsidiary residence. Thirdly, the Princess spoke of 'her present happiness' in May, and in July, Princess Elizabeth, the Prince's sister, heard that they were 'comfortable & happy' together.44 Lastly, to what extent did the Princess understand 'Their conversation'? For the Princess to have comprehended the dialogue of 'Eastcheap in Shakespear' and that of a 'bad brothel', an excellent command of English would have been required. Surprisingly, however, this was a language in which the Princess was deficient, the result of her mother's active discouragement.45
'A great swell German Baron', an aide-de-camp to the Prince, therefore, was appointed as the couple's interpreter, doubtless also becoming English tutor to the Princess. As well as establishing effective communications between the royal couple, the baron made a lasting impression on the immediate community with his enthusiasm for falconry, this becoming evident in 1795. Very unseasonal weather with severe frosts had persisted until late March, with a cool spring following. This preceded a cool summer with frosts and cold east winds in June, resulting in many newly-shorn sheep dying 'by scores'. Many magpies were attracted in consequence, with Stephen Terry recalling:
Their wild moors were crowded with many poor sheep
Which died by the dozen continual week
The Magpys for carrion assembled much there
Which made them quite strong long flight to prepare
With the abundance of 'mags... all over the moors', the baron's hawks caught many, with the spectacle exciting the local populace both 'high and low', being 'much pleased with this quite novel freak' 46 (OED: freak = product of sportive fancy). The baron's reputation as a falconer and linguist had been established
Not so established, arguably, was the accuracy of Princess Caroline's comments to Lord Minto. Giving credence to her recollections, though, was the undoubted presence of French emigres at Kempshott. Consequently, were they partially, or wholly responsible for presenting a scenario of dipsomania and grubbiness? Were the Princess's recollections of timing selective, though? Many other mansion house owners, too, had given succour but 'none exceeded the Kemp'. Four or five occupants had shared one room, being 'So distressed that they knew not what might be their doom'. Some emigres had managed to bring their entire families to England, while others had 'left behind their Children and Wives'. The more fortunate had made the journey in relative comfort, having brought carriages. Many were bachelors, doubtless abandoning similar lifestyles to the Prince. Kempshott House became chaotic. The kitchen staff's routine was upset by vast quantities of food being consumed by an abundance of visitors so that 'The cooks could never finde quite enough'. Fresh supplies soon were exhausted - 'They knew not how many were coming to stay [and] Twas trouble to know how many were there'. The emigres appetites rarely diminished always being as 'hungry as when they first came'. The cellar doors were continually open doubtless leading to dipsetic activities on a grand scale. The Princess, together with the Ladies Jersey and Cunynghame - both highly charged ladies, hot-blooded and able to 'make Kempshot to shine' - had a difficult time attempting to 'keep order and Bachelors [in] line'. The Princess, though, had a distinct advantage here, of course, her fluency in French, the accepted international language of royalty, governments and diplomats.47 Indeed, the Princess corresponded in French until the latter part of the following year, having become sufficiently conversant in English by then. Consequently, her recollections of 'blackguard companions ... sleeping and snoring in boots', may have been confused with a group of unruly emigres - perhaps having returned from an exceptionally muddy ride during the unseasonal weather. This, though, could have been at any point during 1795, the honeymoon period, prima facie, the least likely, with the choicest of language having been fully understood by the Princess.
Excessive behaviour also extended to nearby country squires who were led into unwonted extravagance while attempting to satisfy royal demands on their hospitality. They readily accepted that a request from royalty equalled a command, '...and in such a way a glass of wine sent to a guest is working double tides, so the dining at Kempshot was a matter of no little danger, and the equilibrium of the journey home seldom well regulated by either master or man'.48 William Poyntz had his own experiences: '... perhaps, in common with some other gentlemen of the country, he did not come out, quite uninjured, from that Royal lion's den...'.49 Others overreached themselves to the extent of entering bankruptcy. Mr Vernon, proprietor of The Wheatsheaf Inn, was declared insolvent, with his creditors seizing and selling his renowned cellar of port wine.50 Meetings of the H.H. were continued at The Wheatsheaf up to March 1795, but afterwards were held only at The White Hart, Winchester, and The Swan Inn, Alresford. The Prince, though, 'lived hard and drank deep', with The Times attacking him and saying that he could 'drink, wench and swear like a man... who at all times would prefer a girl and a bottle to politics and a sermon'.51 The effects of his habit, though, more than once nearly proved fatal. The Prince was portrayed as 'a voluptuary... his respiration impeded by repletion'.52 His excesses and rotund constitution may have exacerbated his disabling gout, also affecting his ability to ride, as discussed in Part II. A strong, stout woman from Dummer, Nanny Stevens, was deputed to be his nurse. She helped him in and out of his bath during goutish periods 'while his lazy valet did nothing but brush his clothes and look on'.53
Hedonistic tendencies could not disguise genuine charm, though. Even The Times said of him, in 1791: 'Perhaps no heir to the Crown since the days of Edward the Black Prince, has been more generally admired for his amiable manners than the Prince of Wales...'. Sir Gilbert Elliott, First Earl Minto, referred to his 'spirit and natural manners'. Edmund Burke referred to his behaviour as 'having the ease, grace, and pleasantness of what flowed from pure nature'. Jocosity was ever present, though. Thomas Terry of Dummer attended regal Kempshott for the first time wearing his finest attire, having walked the short distance from Dummer House. A dignified post-prandial return, however, was subverted after his route, correctly anticipated to be over stiles, had been liberally tarred.54
Such amiability and jocundity may have endeared him towards (some of) his Hampshire neighbours. Regardless of their approval, though, by 1795, the Prince of Wales had given thought to purchasing the estate and becoming the next lord of the manor of Kempshott.
Copyright (c) 2013 Christopher Golding